Christmas Stories
Each year, for example, in cooperation with the Hollywood Police Support Association, Celebrity Centre sponsors "Christmas Stories," a program of songs, skits and dance which raises funds to bring holiday cheer to Hollywood's underprivileged children. The fourth annual event, held on December 6 and 7, 1996, featured such international talent as actresses Kirstie Alley, Nancy Cartwright, Jenna Elfman and Priscilla Presley, top Australian vocalist Kate Ceberano, Academy Award-winning composer and musician Isaac Hayes, leading Mexican actor Eduardo Palomo, Mexican recording artist Carina Ricco, Edgar Winter and comedian Jonathan Winters.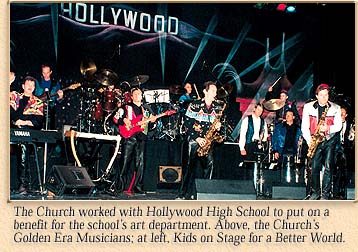 Each performance carried the standing room only audience back to the golden age of 1930s radio, complete with an "On the Air" sign above the stage. Highlights included a hilarious yet touching impromptu monologue by Jonathan Winters, followed by Kirstie Alley and Eduardo Palomo as Lucy and Ricky Ricardo in an original "I Love Lucy" skit written by Chris Smith. Isaac Hayes and Kate Ceberano sang "Baby It's Cold Outside," Edgar Winter performed Irving Berlin's "White Christmas" and Carina Ricco, who flew in the day of the second show, performed John Lennon's "And So It's Christmas" in Spanish.
More than $15,000 was raised at the 1996 event and, as in years past, proceeds from the performances were donated to the Hollywood Police Support Association for its annual Hollywood Community Police Christmas Party for needy children and their families. Money was additionally presented to the Hollywood Police Activities League and the LAPD Hollywood Division's Jeopardy Program, both of which work with at-risk youth, encouraging them in athletic and educational endeavors supervised by LAPD officers.
The Church of Scientology was recognized at the event by the president of the Board of Directors of the Police Activities League, Tom Peters, who acknowledged the Church for its many activities to help youth in Hollywood, and the president of the Hollywood Police Support Association, Ferris Wehbe, who commended the Church on behalf of the Association.
Karen Hollander, president of Celebrity Centre, accepted a plaque from the Police Activities League, and a special message was read from Mayor Riordan, recognizing Celebrity Centre for "its dedication to the local community with outreach and fundraising activities during the holidays."
A New Spirit in Los Angeles, continued...





| Previous | Glossary of Scientology Terms | Contents | Next |
| Your view on this Scientology Website | Scientology Related Sites | Bookstore | Church of Scientology Freedom Magazine |
editor@freedommag.org