Cops 4 Kids
Working with the Los Angeles Police Department, Paramount Studios and the Hollywood Athletic Club, the Church helped to sponsor a "Cops 4 Kids" fundraiser for the Police Activities League youth center in Hollywood. In a surprise announcement, Priscilla Presley, who serves on the PAL Board of Advisors, donated $10,000 to PAL on behalf of Elvis Presley Enterprises.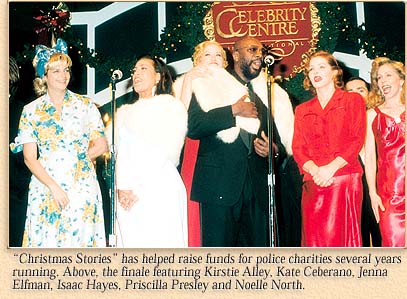 "I have an 8-year-old son and I have been concerned about raising him in a dangerous environment," said Presley. "When I heard about PAL, I felt I could do something for children." Presley encouraged others to donate whatever they could to the cause.

Los Angeles Deputy Mayor Tom Labonge presented certificates of appreciation from Mayor Riordan commending Paramount Pictures, the Church of Scientology and the Hollywood Athletic Club for "outstanding commitment and support of the Hollywood PAL's effort to build a youth center facility to benefit the youth of Hollywood."
Artistic Transformation
In another community effort, the Hollywood Beautification Team, which routinely conducts clean-up and anti-graffiti paintouts in the community, combined forces with the Celebrity Centre International Visual Artists Association, a group of Scientologists who are fine artists, on an extensive mural project at Hollywood High School.
Members of the Visual Artists Association and the Hollywood Beautification Team worked every weekend for more than a year – putting in over 3,700 man-hours – to transform drab and graffiti-strewn walls in the school's historic Liberal Arts Building into spectacular works of art.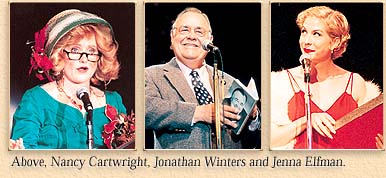 To acknowledge Celebrity Centre, the artists and the Hollywood Beautification Team for their work, Hollywood High threw a reception in their honor. The president of Celebrity Centre in turn arranged a special benefit concert to raise funds for the school's Arts Department. Emceed by actor Michael Roberts, the concert featured Edgar Winter and the Church of Scientology's Golden Era Musicians, with a special performance by the Kids on Stage for a Better World – and raised more than $10,000.

A New Spirit in Los Angeles, continued...








| Previous | Glossary of Scientology Terms | Contents | Next |
| Your view on this Scientology Website | Scientology Related Sites | Bookstore | Church of Scientology Freedom Magazine |
editor@freedommag.org