••••••••••••••••••••••••
"
People think it's up to the police to stop crime, but ... the real answer is to address the problem at its roots by helping young people and adults learn to recognize and respect the importance of others — and thereby respect themselves.
"
- Douglas Williams,
Public Affairs Ambassador, Concerned Businessmen's Association of America.
••••••••••••••••••••••••
Even Bart Simpson Voices Hope
Nancy Cartwright, TV's Bart Simpson voice, then joined the mayor to present awards to the contest winners. She explained that her involvement with The Way to Happiness goes back more than 10 years to the inception of the "Set a Good Example" Contest.
"I've been involved with The Way To Happiness for a very long time," she said. "And I have the opportunity to tell others just like I tell you guys, how to make your dreams come true. I love what I do and whatever it is you decide to do, you're the leaders to set a good example for everbody else. We need you desperately."
Ms. Cartwright and Mayor Dorn then presented the awards while Dr. Edmon Lindsey, president of the Inglewood Rotary Club, called the winners' names, each of them to resounding cheers.
"The Way to Happiness and the 'Set a Good Example' campaign have been remarkably effective at helping to handle crime and improve life in many cities through-out the world," Williams told Freedom. "The young people we award today are the leaders of the future who are going to continue to improve this city by taking effective actions that set an example for others.
"That's the immediate difference our leaders of tomorrow can make today — and that's what The Way to Happiness is really all about," he concluded.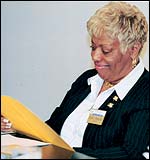 Ellen De Shazer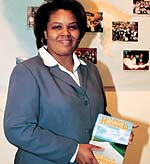 Pat Renteria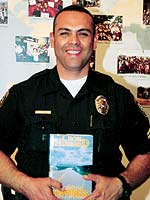 Leonard Damian
Judging the Best Examples

Take it from the "Set a Good Example" panel of judges, this is a contest that everybody wins.
"It is an honor to be asked for a second time to judge the 'Set a Good Example' contest. The children are both encouraging and refreshing. They are clearly benefiting from the principles set out in The Way to Happiness. All children in the world should have the opportunity to learn as these children have and are."
— Ellen DeShazer, Compton, California Superior Court Judge
—I appreciate the opportunity to see and read the wonderful reports and essays submitted by the children. I really enjoyed myself."

— Pat Renteria, Director, Inglewood YMCA
"It's amazing how some children at such a young age are so motivated to make a difference in the community they live in. The 'Set a Good Example' Contest is a great program for the kids that will become the future of our society."
-- Leonard Damian, Snr. Lead Officer for Community Relations, Inglewood Police Department