Recognizing Those Who Fight for Human Rights
Human Rights Leadership Awards for 2002-2003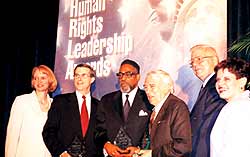 FREEDOM'S HUMAN RIGHTS LEADERSHIP AWARDEES
Canadian MP Derek Lee, Kenneth Gamble and U.S. Rep. Benjamin Gilman (center), flanked by Gail Armstrong, Freedom Senior Consulting Editor (far left) and Rev. Heber Jentzsch and Janet Weiland, President and Vice President of the Church of Scientology International (right).
T
he lesson of history seems relatively simple — what goes around comes around," said Dr. Michael Young, dean of George Washington Law School and chairman of the United States Commission on International Religious Freedom.
"And when it comes around," he continued, "I think it's enormously important for us to be on the right side of the street, with our sleeves rolled up, to help protect the freedoms of others. And only in that attempt, only in that work, does it seem to me that we can guarantee them."
Speaking before congressional, religious and community leaders, government officials and human rights advocates at Freedom magazine's annual Human Rights Leadership Awards celebration, Dr. Young saluted the awardees, describing them as people "who have worked assiduously for the benefit of others."
In light of current world events in the context of Dr. Young's words, one can only wonder what we will learn about the dichotomy of waging war and upholding human rights for all. This is why it is important to spotlight the extraordinary work and accomplishments of individuals who have contributed to protecting and advancing the cause of human rights — a mission of both this magazine and Freedom's annual awards.
"We Must Be Free in Both Law and in Practice"
At the ceremony, held on Capitol Hill in the Cannon House Office Building, Freedom's Senior Consulting Editor, Gail Armstrong, presented the 2002-2003 Human Rights Leadership Awards to:
Canadian Member of Parliament Derek Lee
A human rights and religious freedom advocate for more than two decades, Lee was recognized for international efforts to reduce political and religious strife and to improve human rights, including work to resolve the long-standing conflict between India and Pakistan over Kashmir.
"There are many, many, many around the world who nurture freedom on their own time, who take risks and sometimes put their own lives and well-being on the line to expand freedom and truth," Lee said.
"Our world, based on a view of history, is increasingly free but it can and must be made freer. We need to talk and share our ideas but we cannot impose them. In order to talk and share we must be free in both law and in practice, and human freedom is now regarded almost universally as a basic human right."
Kenneth Gamble, legendary Philadelphia songwriter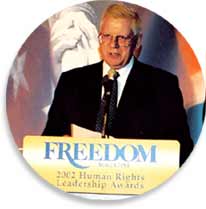 REV. HEBER JENTZSCH:
We owe our very existence as a nation to those who have paid the price of freedom.
G
amble wrote, recorded and produced more than 3,000 popular songs, including "Me and Mrs. Jones," "If You Don't Know Me By Now" and "Love Train." His success enabled him to found Universal Companies, a non-profit organization dedicated to rebuilding Philadelphia's inner city.
"Our ancestors lived and died in all of America's wars, to come back to a country that dismissed them and segregated them from society," he said during his acceptance speech.
"But that was then. And this is now. And the future has tremendous possibilities. And this generation, all of us today, have an opportunity to change the future. The future is like a big piece of putty. And you've got to figure out who's going to get their hands on it first. I'm going to put my hands on that piece of putty. I'm going to help mold the future so that the quality of life is a better one, so that that type of treatment to anybody will never be done again."
U.S. Representative Benjamin A. Gilman
Rep. Gilman, a longtime defender of human rights, was recognized for his efforts to combat world hunger, for securing the release of political prisoners in East Germany, Mozambique, Cuba and other nations, and for other effective actions as a champion of religious and ethnic tolerance throughout the world.
In his acceptance speech, the now-retired Congressman stressed the importance of protecting individual rights. As a New Yorker and as someone who personally lost family members on September 11, he said, he was now even more acutely aware of the monumental tragedies to which hatred can lead.
"It is hoped that this lesson of our common fate will reverberate around the world by way of changes and the way we treat our fellow human beings," he said.
"It has been particularly gratifying, during the course of my work in public service, to lend a hand on behalf of human rights for people in other countries," he said. "But I never expected, and who could have expected, that the 21st century would bring with it a continuing need to monitor human rights."
"It is with deep regret," he said, "that I have dozens of meetings devoted to Americans, and to foreigners, who are having their basic human rights impinged upon in places like France, like Germany, like Belgium, like Austria. We expected more from these friends of ours, as indeed we should."
"The Quest of Freedom for All"

HUMAN RIGHTS CHAMPIONS Philadelphia songwriter and philanthropist Kenneth Gamble; former U.S. Rep. Benjamin A. Gilman (right with Benjamin Netanyahu, the then prime minister of Israel); and Canadian Member of Parliament Derek Lee.
D
r. Young also expressed concern over increasing intolerance in Western Europe and stressed the importance of people from all faiths and political persuasions working together to preserve human rights and to end religious discrimination.
"At the end of the day, when the laws are made, when people are voting, I would want them to view me and my religion and my activities as an essential contributor to the quest of freedom for all," he said.
"I think religions in America have an admirable history of having done that. I think that if there is anything that would work in the history of Western Europe as compared to the history of the United States, it is the centrality of the importance of all of us working to advance the cause, not only of our religions and our rights and our entitlement, but more importantly, those of others."
In his address to the gathering, the Rev. Heber Jentzsch, president of the Church of Scientology International said, "Perhaps more than at any time in recent years, we have been reminded of the delicate balance between freedom and security.
"Can these two essential elements co-exist, or must we sacrifice one for the other? The line to be drawn between the obvious need for security and the equally important need to preserve our freedoms is a daunting question."
Freedom does have a price, he said, "but that price is not the sacrifice of security.
"The founder of the Scientology religion, L. Ron Hubbard, offered this definition for the price of freedom: 'The price of freedom: Constant alertness, constant willingness to fight back. There is no other price'. We owe our very existence as a nation to men and women who did pay this price."
ANNOUNCING
Freedom's 35th Anniversary & 2003 Human Rights Leadership Awards

August 2003 marks the 35th anniversary of Freedom magazine.

Keep an eye on Freedom's website www.freedommag.org for the latest on our 35th anniversary event and this year's Human Rights Leadership Award nominees.
Safeguarding Human Rights
First published in England in August 1968, Freedom today comprises a network of 22 journals and magazines in 17 countries, with its flagship magazine in the United States. The year 2002 saw the first publication of a Hungarian edition, Man and Freedom. And, already this year, the inaugural issue in Ireland has been published.
As part of Freedom's dedication to promoting and advancing human rights and freedoms, since 1987 the U.S. edition has regularly profiled the exemplary achievements of those who protect and advance the cause of human rights.
The Freedom Human Rights Leadership Awards, established in 1989, are presented annually to individuals who have distinguished themselves by their contributions to freedom of speech, freedom of information, government reform, religious freedom, social justice or human rights.