Drug Education Matters
As drug overdose deaths in the United States again hit an all-time high, public concern about drug abuse is declining.
The Centers for Disease Control and Prevention reports that fatal drug overdoses in the United States rose by 15% in 2021. 107,622 Americans lost their lives to drug overdoses in 2021, an all-time high and an increase from 93,655 the year before. Opioids are a factor in some 7 of 10 of these deaths.
Accompanying this increase is an apparent decrease in public recognition of the severity of the problem. A Pew Research Center study released May 31, 2022, shows that as drug overdose deaths increase, the percentage of Americans who expressed concern about drug abuse declined from 42% in 2018 to 35% in 2021. Pew also reported in a separate study earlier this year that dealing with drug addiction "ranked lowest out of 18 priorities for the president and Congress to address this year."
The vast bulk of the money spent [on the "war on drugs"] has gone to law enforcement activities, with only 3.3% spent on education programs to discourage potential drug users from taking illicit drugs. And therein lies the problem.
One reason for this apparent malaise could be frustration with the lack of visible progress in the fight against drug abuse. According to a study published by the University of Pennsylvania, since 1971 the United States has spent more than a trillion dollars in its "war on drugs." Yet drug abuse is still a major social problem.
The issue might be in how those funds are spent. The vast bulk of the money spent has gone to law enforcement activities, with only 3.3% spent on education programs to discourage potential drug users from taking illicit drugs. And therein lies the problem.
Combating drug abuse requires more than law enforcement. Punishing drug dealers and dismantling their drug cartels is only one facet of a broader, more strategic approach. Reducing the demand for drugs by effectively treating substance abusers and educating potential abusers about the dangers of drugs in a way they will accept are critical. "We should pursue our goal with every tool we have, such as education, interdiction, law enforcement and treatment," said Paul Larkin, a senior legal research fellow at The Heritage Foundation, a conservative policy think tank, to CNBC.com in June 2021.
According to the UN Office on Drugs and Crime (UNODC), "effective drug prevention contributes significantly to the positive engagement of children, young people and adults with their families, schools, workplace and community." It is also cost-effective. UNODC points out that "for every dollar spent on prevention, at least ten can be saved on future health, social and crime costs."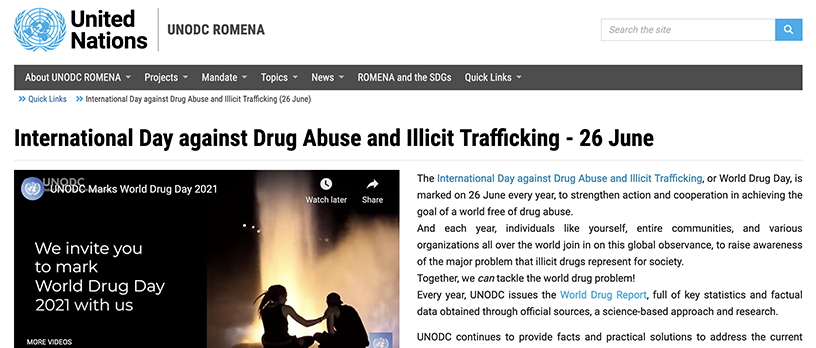 United Nations International Day against Drug Abuse and Illicit Trafficking, held every June 26, promotes substance abuse education. Also called World Drug Day, its aim is to raise awareness of the global drug abuse problem and to promote the sharing of factual information about drugs and drug abuse.
Volunteer organizations throughout the world participate in World Drug Day to raise awareness of the need for drug abuse education. Foundation for a Drug-Free World (drugfreeworld.org) observes UN World Drug Day with events held by its network of more than 120 chapters.
The Foundation is a volunteer-based organization, operating the Truth About Drugs initiative. Supported by the Church of Scientology and individual Scientologists, Foundation volunteers have distributed tens of millions of drug-prevention booklets in 20 languages in some 180 countries. The Foundation also has aired its Truth About Drugs public service announcements on hundreds of television stations. These materials have helped young people learn the facts about drugs and drug abuse, enabling them to make the decision for themselves to not use them.
Drug education matters. It is an important element in combating drug abuse and will reduce the demand that fuels the illicit drug trade.