DUBIOUS DIAGNOSES
Drug "Treatments" Exacerbate Problems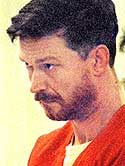 JOSEPH H. LUDLAM JR.
U.S. Navy combat pilot received powerful psychiatric drugs known to increase aggression and hostility and, in 2001, murdered his former employer.
A
ccording to William Baumzweiger, M.D., a former VA neurologist, he and other VA doctors were told that many Gulf War soldiers were no good to begin with, whereas, in Baumzweiger's words, "the truth is they were fine soldiers."
Veterans reporting chronic illnesses, he said, were labeled "malingerers," "weak sisters" or PPPs — "piss-poor protoplasm."
Once these veterans' physical complaints were invalidated, the thrust became to put them on psychiatric drugs. According to veterans' advocate Joyce Riley, as many as 90 percent of those complaining of physical ailments have received no help in diagnosing or treating physical symptoms, but were instead administered such substances as Prozac, Zoloft and Paxil.
The predominance of psychiatric practitioners in VA facilities contributed to the problem. (See "The Psychiatric 'Funnel System'".)
Actual physical disease among Gulf veterans was something psychiatric interests within the system had little interest in acknowledging. Claims by vets of physical harm — often hard to diagnose due to the unknowns of toxic effects, coupled with the ambiguity of the stress factor — could be more expediently (and profitably) answered by a pill.
Studies focusing on psychiatric, not physical, aspects could therefore be called upon to assert that veterans' unwanted physical conditions did not exist — their problems, in just three words, were "in their heads."
The psychiatric "solution" — antidepressants and other psychiatric drugs — seemed to offer a cheap way to silence veterans' health complaints.
But one effect of certain antidepressant drugs is to suppress the immune system, the very system that veterans need most to battle toxins in the body.1
Psychiatric drugs can also induce or exacerbate acts of hostility and violence, including suicide.2
A grassroots veterans' group based in the United Kingdom, the National Gulf Veterans and Families Association, calculated that two-thirds of that nation's 540 Gulf veteran deaths as of June 2002 had been suicides.3
John Callaghan, for example, returned to England "with glowing references from the Royal Mechanical Engineers,"4 but a body that deteriorated rapidly. Afflicted by headaches and other chronic pain, muscle spasms, nausea, blackouts and memory loss, among other problems, he was seen by a psychiatrist and diagnosed with Gulf War Syndrome and post-traumatic stress disorder. Although he had avoided drugs prior to the Gulf War, he used them in efforts to assuage his post-war pain. After being sent to prison in Manchester on drug charges, he hung himself.
Here in the U.S., Joseph H. Ludlam Jr. was hardly someone to be labeled a "PPP." Valedictorian of his high school, he graduated from the U.S. Naval Academy in 1986 and became a combat pilot.
Like so many other Gulf veterans, Ludlam's life began to unravel in the aftermath of Desert Storm. Treatment for his problems included powerful psychiatric drugs known to increase aggression and hostility. On November 8, 2001, he killed his former employer, Timothy O'Shaughnessy, with a golf club and pistol; in January 2003, he received a 40-year prison sentence.
References:
1 For further information on drugs weakening the immune system, see L. Xiao and P. Eneroth, "Tricyclic Antidepressants Inhibit Human Natural Killer Cells," Toxicology and Applied Pharmacology, April 1996; Rod Minchin, "Antidepressants 'May Inhibit Body's Resistance to Cancer,'" The Press Association, March 26, 2002, and related article by Adamantios Serafeim et al. in Blood, published online April 1, 2002.
2 "The Hidden Hand of Violence," Freedom, Volume 31, Issue 2.
3 Jon Robins, "Gulf Veterans Win a Skirmish," The Independent (London), June 11, 2002.
4 Martin Wainwright, "Descent of Gulf Soldier into Drugs and Death," The Guardian (London), January 22, 1999.