Ninth annual Winter Wonderland brings joy to children and families throughout Florida
| | | |
| --- | --- | --- |
| | The annual Winter Wonderland, visited by more than 100,000 people of all ages since its introduction in 1993, offers imported "snow", 100 lighted Christmas trees, a petting zoo and pony rides, and a full schedule of nightly performances. Hundreds of volunteers work together to bring about this holiday highlight for the community. | |


efore December, motorists passing the crossing of North Fort Harrison and Osceola streets had little reason to think the sunny parking lot at the intersection would be the site of evergreens and snow, much less an entire Holiday village.
All that changed on December 7, when Clearwater's Winter Wonderland opened for its ninth season, ending December 22.
Visitors to the fun-packed and festive site are increasing each year, which event organizers attribute to word of mouth throughout the Tampa Bay region and beyond.
Started by members of the Church of Scientology in 1993 and organized yearly by Church staff and parishioners, Winter Wonderland now involves hundreds of volunteers, community groups and downtown businesses, led by prominent Scientologist and Clearwater business owner Bennetta Slaughter.
More than 100 sparkling Christmas trees and "snow" have helped to attract more than 100,000 adults and children from Florida, other states and even other countries since the first Wonderland was erected.
Winter Wonderland now includes 90,000 lights on more than 100 small and large Christmas trees and on the various attractions including a candy cane forest, gingerbread men and Tudor-style houses in Santa's Winter Village — all reconstructed this year for a brand-new look that, as one resident described it, "feels like Disneyland."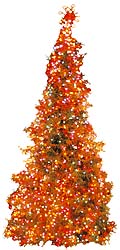 Pony rides, a petting zoo and playground are popular features of the wonderland along with the Hot Chocolate House, a "Bouncy House", a skating rink and Santa's House, where visitors can have their photos taken with Santa or decorate cookies with Mrs. Santa Claus.
Creative workshops and diverse professional and amateur entertainment — including church choirs, folk musicians and country western performers — also provide all ages with a full schedule of events and activities to choose from. Special events range from the Lowry Park Zoo's "Zoo to You" featuring animals for children to see and touch, and stage performances by Sonny LaRosa and America's Youngest Jazz Band, the Imani Cultural Arts Dancers and many more.
Visitors also donate toys and non-perishable food for the Winter Wonderland Charity Drive. The charity drives to date have brought more than 35,000 food items, 3,000 toys and thousands of dollars to children and families in need throughout the Tampa Bay area. All donations from this year's drive go to the Red Cross and the Homeless Emergency Project of Everybody's Tabernacle in Clearwater for distribution.
For more information call (727) 445-4338. or e-mail coscw@scientology.org