What Is Scientology?
Exhibit answers question, creates strong interest in Dublin
| | | |
| --- | --- | --- |
| | At Dublin's "What Is Scientology?" Exhibition, visitors from all walks of life discover for themselves why Scientology is the world's fastest growing new religion. | |
"This answers clearly all the questions I had on Scientology."
"I am really impressed by all that Scientologists are doing, especially by their anti-drug actions, about which I never heard in the media."
"It is good to meet people who have values, and are so enthusiastic about them."
Such comments have been echoed by thousands of visitors attracted to a unique exhibit that was recently on display in Dublin.
The "What Is Scientology?" Exhibition, like other Church of Scientology exhibits that have toured through 60 cities around the world in recent years, quickly became a high point of interest to Ireland's community leaders, religious leaders, educators, interested businesspersons and professionals, relatives and friends of local Scientologists, and the general public.
Those who stream through the exhibition, (more than 300,000 have done so over the past three years) are often surprised by what they learn. They uniformly leave with a new and sometimes completely changed understanding of the Scientology religion and its members.
Through audio-visual programmes, photos and simple, easy-to-understand displays, the exhibition describes the basic beliefs of the Scientology religion, its membership and the many community betterment and social reform activities Scientologists are engaged in.
Exhibition guides not only answer questions but also provide a personal perspective of their experiences as practising members of what has been called the fastest-growing 20th century religion in the world.
Many visitors learn of the basic Scientology spiritual philosophy behind the religion, such as: "Man is an immortal spiritual being. His experience extends well beyond a single lifetime. His capabilities are unlimited, even if not presently realized." Along with a grasp of the theology of the Scientology religion, visitors obtain a good sense of the history of the movement and are introduced to the life of its founder, L. Ron Hubbard.
"It is a fact that misunderstandings of one another's beliefs and lifestyles can create major conflict, including war," said Gerard Collins, head of the Scientology Mission of Dublin and one of the exhibition hosts. "We feel it's vital to let people know what Scientology is really all about, so they can objectively discover the truth about it."
He cited, as one example, the conclusion of a member of the local Catholic clergy, after learning about the dynamics of existence. These dynamics, Collins explains, are "the urge to survive in eight areas of life — one's individual concerns; the family; groups one is part of, including one's occupation; mankind; other life forms, including plants and animals; the physical universe around one; the spiritual nature of man; and the Supreme Being."
Upon seeing the benefit of operating in life for the good of all eight dynamics, Collins' visitor remarked, "If people like Bush and Blair would reason with the eight dynamics, as laid out by Mr. Hubbard, there wouldn't be threats of war."
SOCIAL REFORM AND BETTERMENT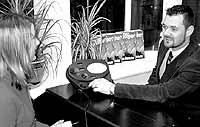 Gerard Collins, Executive Director of the Church of Scientology Mission of Dublin, explains the basics of Scientology spiritual counselling (called auditing), including a demonstration of the "E-Meter" pastoral counselling device.

Displays of the application of Mr. Hubbard's breakthrough technologies for resolving illiteracy, drug abuse and crime attract strong interest,especially amongst public officials and community leaders. The secular social betterment programmes which use Mr. Hubbard's discoveries in these fields are supported by Scientologists throughout the world.

At the education display, visitors experience a demonstration of Mr. Hubbard's fundamental discoveries in the educational field, which have aided millions around the world to better study and learn.

Equally of interest is the display on Narconon, the highly effective drug rehabilitation programme which uses Mr. Hubbard's methods exclusively. The programme has achieved international acclaim for its more than 70% success rate in freeing addicts from the chains of drugs and alcohol, and today Narconon has 106 centres in 31 countries. The programme is government funded in several countries. Narconon's largest drug rehabilitation and international training centre, located in the state of Oklahoma in the United States, is the largest residential drug rehabilitation facility in the world.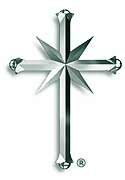 Visitors also learn of The Way to Happiness, a non-religious, common sense moral code. Its 21 precepts of time-honoured values have found common agreement among many cultures and creeds. More than 70 million copies of the code have been published in 57 countries in 22 languages since it was first published 21 years ago.
These and other programmes comprise part of the broad, social betterment mission of Scientologists to reverse destructive trends and create a better society for all.
After learning of the charitable actions of the Scientologists a number of visitors commented, "You have extremely interesting programmes." One young man stated, "One should bring all the drugged people of the world to you." And as one mother wrote in a single sentence in the guest book of the exhibition, "You saved my son from drugs."
UNDERSTANDING "AUDITING"
Visitors to the exhibition usually show the greatest interest in the demonstration given of the Hubbard Electropsychometer, or "E-Meter," a ministerial aid used by Scientology religious counsellors to help parishioners locate areas of spiritual upset or trauma in their lives. These experiences are then taken up in specialised religious counselling sessions, called "auditing" (from the Latin word audire meaning "to listen"). The E-Meter itself does nothing to a person, the exhibition's hosts explain. Rather it is used solely as a guide for the counsellor (known as an "auditor"), as it reacts to various thoughts. Those who observe or experience a demonstration of the meter see with certainty its effectiveness in helping to locate areas of troubled thought. Crowds regularly form at the demonstration, where individuals can actually "see" their thoughts on the E-Meter. And, nearly unanimous is the response: "This works!"
"A WORKABLE RELIGIOUS PHILOSOPHY"
"In a society where material influence reigns, people want relevant answers to life that provide much more than just belief, but a route for daily living," said host Gerard Collins. "There are reasons why people take drugs and answers for what causes problems in life. Popping pills is a materialistic answer to the problem," he said.
"Scientology offers a workable religious philosophy that people can use to improve the here and now, not just the hereafter."
For information on future locations of the What is Scientology? exhibition in your area, contact the Church of Scientology Mission of Dublin on 01 872 0007



Scientologists are people who knew life could be better. They are also people who are able to think for themselves. When they found out that Scientology recognizes you are a spiritual being, that it enables you to truly know what and who you are, they decided to examine it further.

And that's why so many millions of people from all walks of life in more than 150 countries are Scientologists today.

Now, armed with practical answers to the mysteries of life, they have real solutions. Workable methods to make life better. Just like they always knew it could be.

But don't take someone else's word for it.

You can purchase your own copy of What Is Scientology?, the encyclopedic reference on Scientology, in either hardback or softcover, by writing to the Church of Scientology.

Complimentary copies are available to religious leaders, government officials and members of the news media at the address here.