Human Rights Advocates Recognized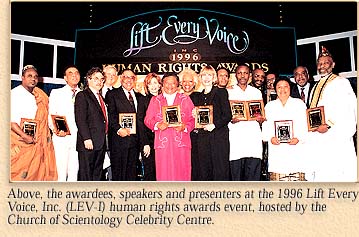 The annual Human Rights Awards Celebration of Lift Every Voice Inc., (LEV-I), a California-based group dedicated to human rights education and enforcement of the Universal Declaration of Human Rights, are hosted at Celebrity Centre. Anne Archer served as mistress of ceremonies at the 1996 event, where Isaac Hayes and leaders of diverse groups representing ethnic minorities from the United States and throughout the world were honored for achievements in the fight to secure human rights for all.
California State Senator Diane E. Watson and Compton Councilwoman Marcine Shaw joined Hayes as American awardees for their work on behalf of human rights. Other recipients recognized for their efforts in battling human rights violations included the following:
Professor Maurice Glele-Ahanhanzo, United Nations Special Rapporteur on Racism, Racial Discrimination, Xenophobia and Related Intolerance and author of the African Charter on Human Rights;
Frieda Tomasoa, a member of the Republic Cabinet of South Molucca (occupied by Indonesia), presently in exile in Holland, who has brought to the attention of the United Nations and the world human rights abuses in her native land;
Barika Idamkue, representing the Movement for the Survival of Ogoni People, an indigenous Nigerian people;
Shaykh Abd'Allah Latif Ali, co-founder and family elder of the American Muslims Admiral Family Circle, which focuses public attention on human rights issues;
Yogesh Varharde, founder of the Amdebkar Centre for Peace and Justice, based in Toronto, which is the voice of 250 million Dalits or "Untouchables" in India; and
Ben Matthews and Wayne Sanders, Music and Artistic Directors of the Opera Ebony Company in New York, long a platform for minority performers.

Posthumous awards were presented to the Rev. Dr. Martin Luther King Jr.; L. Ron Hubbard, founder of the Scientology religion; and Ken Saro-wiwa, renowned Nigerian writer and activist for the Ogoni people, who was abruptly sentenced to death in December 1995.

Proceeds from the awards event funded scholarships for college and high school students specializing in the field of human rights, enabling them to participate in the United Nations Summer Human Rights Internship Program in Geneva, Switzerland.

A New Spirit in Los Angeles, continued...








| Previous | Glossary of Scientology Terms | Contents | Next |
| Your view on this Scientology Website | Scientology Related Sites | Bookstore | Church of Scientology Freedom Magazine |
editor@freedommag.org