"We Have Turned The Corner"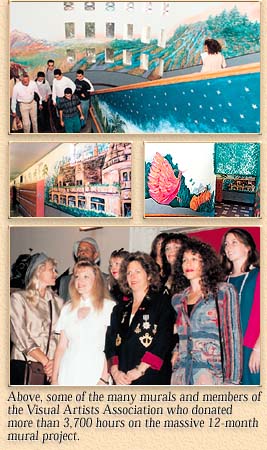 Many individuals throughout the community helped with Hollywood's Night Out Against Crime, a celebration observed by millions of people throughout the country as National Night Out. The 1996 event, held on Hollywood Boulevard in front of Mann's Chinese Theater and attended by nearly 3,000 people, featured Mayor Riordan, Police Chief Willie Williams, Fire Chief William Bamattre and City Council Member Jackie Goldberg.
Working with the Hollywood Chamber of Commerce, the Hollywood Community Police Advisory Board and the Hollywood Police Support Association, the Church of Scientology helped to produce the 1996 event that has now become an annual highlight for downtown Hollywood.
Event Chairman Chris Baumgart, chairman of the Hollywood Community Police Advisory Board, acknowledged the Church of Scientology for its support, which included providing the stage for the event and the evening's star-studded musical entertainment: Chick Corea, Mark Isham, Edgar Winter and the Church's Golden Era Musicians.
Baumgart pointed out the great progress that has been made by the community, planning and working together, against the problems of drugs and crime. "We got our message across that we have turned the corner," Baumgart said, "and turned Hollywood into a desirable place to live and do business."
And so it is, throughout Hollywood and Los Angeles, through many activities by innumerable people, forward strides are being made toward a better community.






| Previous | Glossary | Contents | Next |
| Your View | Related Sites | Bookstore | Church of Scientology Freedom Magazine |
editor@freedommag.org