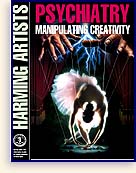 he Citizens Commission on Human Rights has published a series of carefully researched and thoroughly documented booklets to expose psychiatric crime.
More than three million copies of the booklets have now been published and distributed internationally.
The first of the series, Creating Racism, Psychiatry's Betrayal, set off an international firestorm of controversy about psychiatry.
In the other publications in the series, areas of society where psychiatrists have created havoc have been exhaustively researched and their crimes disclosed in separate booklets, including:
Three new booklets have now been produced and made available.
Inflicting Pain — Psychiatry Destroys Minds
This booklet describes the truth about electroshock — brain damage, destruction of memory and lost lives.
The heritage of electroshock covered in this booklet includes its documented use by German officers to implant soldiers with murderous commands as early as World
War I.
Creating Evil — Psychiatry Destroying Religion
In 1940, leading British psychiatrist J.R. Rees announced that psychiatry would target four strategically important fields: religion, education, law and medicine.
With this in mind, psychiatrists capitalized on the devastation caused by World War II as "evidence" that religion had "failed" to understand man and provide the solutions to enable us to live together peacefully. The "solution" of course was to be psychiatry.

The effects on religion have been devastating, as reflected in moral decline, increasing crime, and the size of most of the older religions' congregations crashing to all-time lows.
Harming Artists — Psychiatry Manipulating Creativity
From Vivien Leigh and Judy Garland in the 1940s to Del Shannon and Kurt Cobain in the 1990s, this booklet documents an extraordinary number of artists and entertainers whose lives ended in tragedy after psychiatric drugs or "treatment" destroyed their creativity.
Psychiatric lobbyists of the 1950s manipulated entertainment industry leaders into creating the "friendly psychiatrist" as the hero in many films of the era. This booklet explains why this false image was created, and gives statistics and case studies of the harm attributable to psychiatrists in the world of art.
Prepared after years of research, these booklets are made available to all concerned citizens, and particularly those whose job it is to protect the general public, including leaders in government, religion, human rights organizations and news media all over the world.
To obtain copies of these booklets, contact the Citizens Commission on Human Rights
at