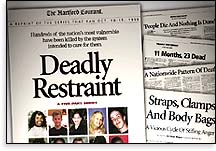 Restraint procedures more lethal than a method banned by the LAPD in 1997 have led to the deaths of children in California psychiatric institutions. New federal regulations will help prevent further deaths.


ifteen-year-old Edith Campos of San Yisidro, California, was not a typical American teenager, beset by drug and behavioral problems. Feeling powerless to help her themselves, Edith's parents admitted their daughter to Desert Hills Center for Youth and Family outside Tucson, Arizona.
Once Edith was admitted, a psychiatric staff demanded she give up a photograph from home of herself and her brother. Edith refused to part with the photograph. Tensions mounted until Edith raised her fist in defiance. What followed was the violent death by restraint of the petite, 110-pound girl by two male psychiatric staff. One of them laid across her back while she was face down on the ground, pinning her arms, and the other held her feet. The brutality continued for 10 minutes, by which time Edith was blue and she had no pulse. Cardio-pulmonary resuscitation revived her breathing, but she remained in a coma, and died two days later. The autopsy ruled that Edith Campos died of suffocation. Amazingly, no charges were brought.
Edith's was not an isolated case. Deaths by psychiatric restraints have been occurring throughout the nation. Investigative reports published by The Hartford Courant over 1998 and early 1999 revealed at least 151 restraint deaths in psychiatric facilities across the U.S. between 1988 and 1998. An independent study commissioned by the Courant concluded that the actual number of deaths is between 50 and 100 each year – since many deaths go unreported to authorities.
Reports of restraint-related deaths have increased due to heightened public awareness, and so has official action. Pima County, Arizona authorities implemented plans to withdraw 38 youths from the Desert Hills center where Edith Campos died, citing "safety concerns."
And cases that may otherwise never have been heard are receiving attention — such as the death in a Chula Vista psychiatric hospital of 16-year-old Kristal Mayon-Deniceros on February 5, 1999. After being restrained for 30 minutes — forced face-down on the floor with her legs and arms held — the girl suffered respiratory arrest and died.
More public awareness
Following national media attention this year to the plight of children being abused and killed by psychiatric restraints, the Clinton administration announced in June a new regulation designed to prevent the abuse of chemical (drug) and physical restraints on patients. While the regulations will affect federally funded institutions, they have yet to be extended to private facilities.
Advocates for such regulations also stress the need to continue raising public awareness of dangers of restraints. Remarkably, a San Diego County official stated to media that the restraint Kristal Mayon-Deniceros was undergoing when she died in February "does not appear to have been an unsafe method of restraining her."
Yet a restraint hold less severe than that used on Edith and Kristal was outlawed for use by police officers by the Los Angeles Police Department in 1997.
The police technique, known as a "hobble restraint," involves strapping a suspect's handcuffed wrists to shackled ankles behind the back, and was used at times with combative suspects. The method came under fire as a result of a lawsuit filed against the police department and the city by the family of Bruce Klobuchar, who died in August 1995 while being restrained by police officers. The lawsuit was settled out of court in 1997. The settlement terms included the decision by the Los Angeles Police Commission, for purposes of risk management, to ban the use of the hobble restraint.
"That Person May Die"
The Los Angeles police have not been the only ones to realize imminent risks of using restraints. As forensic medicine specialist Dr. Christopher B. Rogers stated, "Understand that when you put someone in prone restraints, it is an extreme measure, because you have to realize that person may die."
In Los Angeles, strong concerns of the County Commission for Children and Family Services over the use of restraints in Metropolitan State Hospital prompted the County Board of Supervisors to adopt a plan in August 1998 to improve conditions for youth in the facility.
The Commission extensively reviewed the services at Metro State, including receiving reports from a variety of sources, and conducting interviews and a walk-through of the hospital. In a letter to the Los Angeles Board of Supervisors, Patricia Curry, Chair of the Commission, wrote that "the following are areas of great concern to us which we believe place these children in jeopardy." Top on the list of concerns was "1. The excessive and possible illegal use of restraints."
"It is not uncommon," Curry stated, "for a child with a conduct disorder to be hospitalized at Metropolitan State Hospital, put in restraints, over-medicated, transferred to MacLaren [County facility] and returned to the hospital, thus setting up a revolving door syndrome."
Concerns Warranted
The Commission's concerns are warranted.
The restraints which have proved to be lethal in psychiatric hospitals involve forcing the victim onto his or her stomach and applying weight to the back to hold them in place, interfering with the person's ability to breathe. In the most deadly scenario, the victim's arms are first crossed in front of their torso. When a person, particularly a child or teenager, is held face-down to the floor with the weight of a grown man on their back, breathing can be much more severely hindered with the added pressure of the elbows on the diaphragm.
Impending death can be deceptive. As reported in a medical article in the FBI Law Enforcement Bulletin of May 1996, "Interference with proper breathing produces an oxygen deficiency (known as hypoxia) in the blood, which disturbs the body's chemistry and creates the conditions for a fatal rhythm disturbance in the heart.
"The process of hypoxia is insidious and subjects might not exhibit any clear symptoms before they simply stop breathing."
Further, in psychiatric institutions, if a patient undergoing such a restraint has not already lost his strength to breathe, the injection of a powerful psychiatric drug can speed the process. Medical studies, such as "Sudden Death in Individuals in Hobble Restraints During Paramedic Transport" published in the May 1995 issue of Emergency Medicine, document the potentially deadly effects of restraints combined with drugs. Detailed examination of the cases of two patients for the latter article found that emergency resuscitation measures failed with both patients — a similar failure experienced by many of the children who have died from psychiatric restraint combined with powerful psychotropic drugs.
Unregulated Restraint
The national Joint Commission on Accreditation of Healthcare Organizations (JCAH) sent out a "Sentinel Event Alert" in November 1995, warning of restraint deaths. The JCAH reviewed 20 restraint deaths (12 in psychiatric hospitals) and noted that "In 40% of the cases, the cause of death was asphyxiation. Asphyxiation was related to factors such as putting excessive weight on the back of the patient in a prone position..."
One of the JCAH's recommendations to reduce the risk of death was to "redouble efforts to reduce the use of physical restraints and therapeutic holds...."
Currently, restraint standards exist for nursing homes, but very few regulations have existed for mental health facilities.
The new national regulations for federally-funded institutions are a significant step in the right direction. The regulations, announced by the Health Care Financing Administration (HCFA), including the right to be free from restraints and seclusion in any form when used as a means of coercion, discipline, convenience or retaliation. Additional rights included in the regulations concern the right to privacy and confidentiality, as well as to decisions about patient care.
And on the horizon for all psychiatric facilities — including those privately funded — federal legislation introduced in March by U.S. Rep. Diana DeGette of Colorado and Rep. Fortney "Pete" Stark of California will create strict and detailed federal guidelines on restraint and seclusion use.
The sooner the better every possible measure be taken to prevent such deadly methods — before more children join the common grave of Edith, Kristal and other children whose lives have been snuffed out by psychiatric restraints.