Leading the Way to a Drug-Free LA
Anti-Drug Initiative Launched in Hollywood



On the street and in the clubs, this campaign is providing answers to drug abuse

On any given weekend night in Hollywood, crowds line the streets outside of the dozens of nightclubs with names like Deep, Cinespace, The Ruby, Nacional, Circus and the Palace. Hip Hop, Techno, R&B and even rare Brazilian grooves spill into the streets as the partying goes on sometimes until 4:00 in the morning. The rocking club scene is further proof that, with its ongoing revitalization, Hollywood is once again the "in place" to be for many of our Southland youth.

But Tinseltown's expanded club scene brings with it another concern: the proliferation of so-called "club drugs" such as ecstasy, GHB, rohypnol and ketamine. These drugs are an all-too-familiar cause of concern, not just in LA, but in many other cities throughout the United States as well. And, as new shopping districts like Hollywood and Highland begin to draw more tourists and families into the city, worry over the possible spread of these drugs is on the increase here.

Concern over this burgeoning drug-abuse in LA area among youth prompted the Los Angeles Church of Scientology to step up its efforts to work with others in the Hollywood community to educate young people, and their parents, on the dangers of drug use and abuse.

...........................


Police, parents and shopowners are equipping themselves with tools to help them steer youth from the harmful effects of drugs: straight-talk booklets that explain what those effects are.




...........................

"Education is a formidable weapon in combating the popularization of club drugs and all the peer pressure that comes with them," said Chel Stith, spokesperson for the Church of Scientology's anti-drug campaign in Hollywood.

It is a weapon she says the Church of Scientology has been employing successfully with its anti-drug efforts around the world. What the Church now offers in this battle are small, pocket-size educational booklets on drugs for mass distribution: "The Truth about Joints," "Cocaine and Crack: A Deadly Road to Personal Ruin" and the newly published, "Ecstasy: The Truth about the Enemy behind the Mask."

In Los Angeles, where the Church's anti-drug campaign operates under the banner of "Lead the Way to a Drug-Free USA," the widespread distribution of these drug education booklets has begun.

"We have seen it happen again and again — as the truth about drugs spreads through the community, often from teen to teen, parent to child, friend to friend — that drug abuse and drug-related crime start to abate," said Luis Gonzales, a pioneer of the "Lead the Way" campaign since 1987.

"The city of Los Angeles has been working very hard to revitalize Hollywood. The spread of drugs only undermines the effort to return Hollywood to the glory of its heyday, so we are helping to provide a solution by giving people the truth about drugs," Gonzales said.

Saying No to Drugs in Europe

Widespread distribution of the Church's drug information booklets began in Europe in 1997 with the first publication of "Drugs: The Truth about Joints." Since then more than 9.6 million copies of the booklets have been distributed throughout Europe, from France and Spain to Italy, Greece, Hungary and the United Kingdom.

Booklets are routinely given out by state and local government officials, police, educators, shop owners, nightclubs and tens of thousands of general public who see them as an effective tool for educating young people on the dangers of drugs.

For example, more than 600,000 copies of "The Truth about Joints" booklets have flooded Germany, Switzerland and Austria, where widespread use of marijuana and hashish is a major problem. Copies of the booklet were mailed out to members of parliament, police stations, doctors, schools, local shopkeepers, libraries, churches, parents and counseling groups.

After receiving their initial copies, more than 4,000 police stations and 5,000 doctors in Germany wrote in asking for more booklets to distribute. Many police distribute the publications in their stations or while giving anti-drug lectures to students.

"Every day we hear young people tell us that smoking marijuana is less dangerous than drinking beer," said one German police officer. "We are very happy to have this booklet as now we can give them true information about that drug."

In France, more than 5.1 million copies of the booklets have been distributed by local shop owners and in discos, where the use of ecstasy and other club drugs is rampant. Shopkeepers and nightclub owners there regularly distribute copies of the booklets to their clientele.

In Italy, volunteers regularly hold special "Say No to Drugs, Say Yes to Life" events, where children and adults are encouraged to sign the Say No to Drugs Honor Roll and pledge to remain drug-free. In Novara, volunteers distributed more than 6,000 copies of the booklet during one event alone. In Padova, a university professor who received copies of the booklets took them to school administrators to close them on distributing the booklets on campus and posting copies on school notice boards. In Falconi, police asked for 1,900 copies of the booklets to be delivered to police stations and schools throughout the city.

Lead the Way to a Drug-Free LA

Since the beginning of 2003, more than 20,000 copies of "Ecstasy: The Truth about the Enemy behind the Mask," and "The Truth about Joints" have been distributed in Hollywood and throughout the greater Los Angeles area.

Shop owners in Hollywood display the booklets and provide them to their customers. Volunteers distributed copies of the booklets during a special event to honor the Sheriff of Los Angeles and tens of thousands of copies were passed out to runners in a local marathon.

Such efforts are encouraging more and more young people and adults to refuse to become involved with drugs.

"Solving the drug problem starts with providing those who might consider using drugs factual information about their dangers," says Stith. "Once a person really understands the harm drugs do, he is no longer interested in taking drugs. And that is where the real solution starts."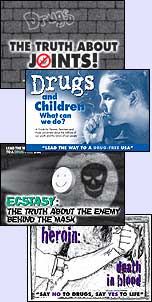 Know and Use the Facts
Legalization, decriminalization, "harm minimization" .... today's political discussion about drugs has no shortage of strategies and clichés. Some have given up altogether on ending the drug problem, and seek only ways to minimize the harm drugs leave in their wake. While care must be given to addicts and to the drug-related decline of our communities, the only long-term answer is education and prevention. Only then can we have any chance of guaranteeing that our children, and their children, will be safe.
As a public service, Lead the Way to a Drug-Free USA distributes highly informative booklets that can be used by anyone to combat drugs with the most effective ammunition there is: facts.
Heroin: The most deadly and addictive drug: its history, how it affects the addict and why.
Ecstasy: The "new" drug is not new at all, its dangers have been documented for decades.
Cannabis: Propaganda that marijuana is "not as bad" as other drugs is false.
Drugs and children: A helpful guide for informing children about drugs — for parents, teachers and youth workers
CONTACT: Lead the Way to a Drug-Free USA at (323) 953-3200