On Behalf of LA's Peace Officers
An excerpt from the keynote address, Interfaith Sunday of Prayer; Sunday, May 18, 2003 Church of Scientology Celebrity Centre International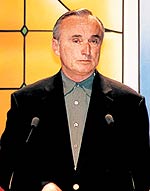 William J. Bratton
— Chief of Police

On behalf of the men and women I am privileged to serve and represent, thank you... There has never been an experiment — there has never been a reality — like America.

We celebrate not only the country, we celebrate the idea: The idea that men and women can come here from all over the world to be free — to be free to practice whatever faith may draw them; to be free to live among people from all over the world — different places, ethnic backgrounds and cultures.

And in this country, there is no more significant an example of the success — but also the continuing struggle — to embody the idea of "America the Beautiful" than this city: Los Angeles, California... with 146 different ethnic groups and untold numbers of religious groups.

As reflected on the stage, it is a city that, by and large, works. It is an idea that works; it is a country that works. But, a core component of what makes it work is the City of LA Police Department.

Democracy is made up of human beings. And there will always be those, who for one reason or another, will attempt to harm others, who will attempt to not adhere to the guidelines and principles that a democracy embodies...

So even in a free and democratic society such as the one we live in, there must be... peace officers.

We enforce the law, but we do it the right way. We do it compassionately, consistently, constitutionally. If we do it free of bias of race, of creed or religion, then we are truly peace officers...

It is truly my belief that they are much more peace officers than "law enforcement officers." They are of this community, they reflect the diverse community that we police. And they are here, not just to serve and to check, but to work with any of the diverse communities that are reflected in this room and in this city.

And on their behalf I extend to all of you who are here today on this stage and in this audience — the many institutions and religious entities that you represent — our thanks for remembering us, and for remembering the sacrifices of over 195 LA police officers who over the years have given their lives so that this idea — this dream that this country, this city represents — can move forward.

We live in turbulent times. We live in dangerous times. Today we are engaged in a great and noble struggle against the forces of evil that would seek, under the guise of religion, to further divide the idea we represent.

That is not what religion is intended for. That is not what religion embodies. It is a falsehood...

We will not — we cannot — ever allow those forces of evil to change the way of life that we have created and that we are attempting to provide to so many others.

My commitment as Chief of Police of this great and wonderful police department in this magnificent city, is that at all times we will be reminded that we are peace officers, that we are here to work in partnership, that we are not an entity unto ourselves, that we are part of the community.

To many communities in this city, unfortunately and for too long, we have been seen as apart from, particularly in our minority communities. What you represent in this room today are the essential elements that are necessary for us to be a part of — and not seen as apart from — and that is faith and trust and confidence and support.

The LA Police Department truly embodies an organization of men and women who are committed to the safety and well-being of the city and all of its residents... to practice whatever religions they may seek to choose, and to practice without fear of being hated, of being the subjects of acts of bias and hatred. We will not tolerate it or stand for it.

We are committed to a city that is the embodiment of the words "America the Beautiful"...