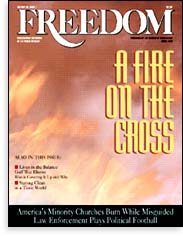 More than 150 Southern black churches have burned since 1990, at least 100 of them linked to racism. Despite the headlines, the true nature of the campaign of violence and what underlies it has remained veiled in darkness.
Freedom investigated, and reports on the real story.
In our last issue, we focused on the problems ethnic and religious minorities face in America. The response was voluminous and impassioned, and we thank all who took the time to write and call us.
Now, evidence obtained by Freedom shows that misguided agents are looking for almost anyone but those most suspect. Freedom also found out why. And the answers show that the long hours being invested by honest and well-intentioned investigators and officers are being undermined.
In the following pages we explore the causes and effects of the subversion of truth in government, the judiciary and law enforcement. I welcome your voice in this regard. And I hope you find this issue as informative to read as it was for us to assemble.

Click here for the
Table of Contents

Available in Portable Document Format (PDF).
To view it, install Adobe System, Inc.'s Acrobat Reader available for download at:
http://www.adobe.com/products/acrobat/readstep.html

To read the PDF version of Freedom Magazine
A Fire on the Cross (Approx 4.60 MB)











Freedom Home Page