Firefighters Commemorated
"Unspoken courage" was how artist Pomm Hepner could best describe the quality she saw in New York City's firemen in 9/11 rescue operations.
| | | |
| --- | --- | --- |
| | Artist Pomm Hepner presents "Unspoken Courage" to Engine 40, Ladder 35 (top, with Captain James Gormley) and to company and community members at Engine 37, Ladder 40 with New York Fire Department Lieutenant John McCole (bottom image, second from right, first row). | |

hat inspired her painting by the same name, of which limited edition prints were dedicated this spring to the Uniformed Firefighters Association of Greater New York and to six firehouses that lost men in the World Trade Center tragedy.
The acclaimed watercolor artist from Glendale, California, had joined other Scientology Volunteer Ministers in New York during relief efforts in September. Initially, she created a large, three-panel, transportable mural of the American flag. Moved by the valor she observed in firefighters at Ground Zero, she painted "Unspoken Courage," which depicts a fireman and two children in front of Old Glory with ashen remains of the World Trade Center towers scattered at their feet.
The print was also placed on the Memorial Wall under construction at the Fire Academy, commemorating all fire fighters who lost their lives on 9/11.
"The painting is an acknowledgment to all heroes who work daily to keep us safe from harm," the artist said during the presentation of the special edition print to Engine 40, Ladder 35—words that would be echoed at the other firehouses. "I painted this work from my heart. It shows our gratitude. It shows you that we, as Volunteer Ministers of the Church of Scientology, are with you, and we'll continue to be with you."
New York City Fire Department Lieutenant John McCole joined the Volunteer Ministers in the presentation of a print to another FDNY unit, Engine 37, Ladder 40 in Harlem. McCole, who had been off duty and supervising ministerial students at the Church of Scientology on 82nd Street since before 9 a.m. on September 11, had rushed to the heart of rescue operations, where he saved the life of a man trapped on the 6th floor of the north tower. He remained at Ground Zero for days in the rescue efforts, and personally knew 80 of the firefighters who died in the line of duty.
He said he still takes any time he can to help other firefighters in the city.
"It's hard to comprehend the level of destruction and loss these men have faced," said McCole. "I want to let them know that I do know, I feel the same things—and I know they understand me, too. And that I appreciate and respect them more than words can say."
Stephan Hittman, deputy fire commissioner, and director of fire and life safety with the New York Fire Department, said of the art presentations, "This really means a lot to us, to all the men. It keeps us focused on our ideals."
The artist will be presenting her painting to others in New York in the months ahead.
"We want to acknowledge as many heroes as possible," said Pomm, who concludes each presentation by reading the quote from Scientology founder L. Ron Hubbard which appears on a plaque on each print:
"Wherever man strives,
Wherever he works,
Whatever he does,
The good he does
Outweighs the evil."

SOMETHING CAN
BE DONE ABOUT IT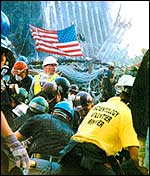 Disasters can affect nations, communities, families or individuals.
Whatever difficulties people may face—with jobs, relationships, children, education, drugs or general well-being—workable solutions exist.
Scientology Volunteer Ministers are trained to help others. They respond to emergencies large and small. Every day, they better lives and improve conditions throughout the world.
The Volunteer Ministers Corps is ready to help.