A Family Battles for Survival
Did Bob Jones bring home a horrible curse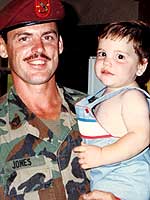 Staff Sergeant Bob Jones with son Ian in 1989.
D
uring the Gulf War, Bob Jones served with the 1st Armored Division in Saudi Arabia, Kuwait and Iraq. Soon after returning to America, Jones' health, as well as his wife's, began the decline that has culminated in their current condition. All five family members have tested positive for Mycoplasma fermentans incognitus (MFI).
Like so many others affected by Gulf War Illness, Bob and Deborah were healthy and active prior to the onset of the disease. A former teacher-of-the-year at her elementary school, Deborah is today totally disabled, with multiple and severe health problems.
Turning to Army doctors, the Joneses found individual physicians that tried to help. A request for funds for MFI treatments by outside specialists, according to Bob Jones, was turned down by the Army's surgeon general, and their conditions worsened.
"I was in great pain," Deborah said. "I was bleeding from both ends. I begged them [a Walter Reed Army Medical Center team headed by psychiatrist Charles Engel]. I told them we were dying. They just looked at us and said nothing."1
If you know of similar stories, or wish to in some way assist those whose lives are imperiled by Gulf War Illness, visit http://investigations.freedommag.org/info/index.htm and follow instructions for reporting.
*1 Norm Brewer and John Hanchette, "Illness from the Gulf," Army Times, May 4, 1998.