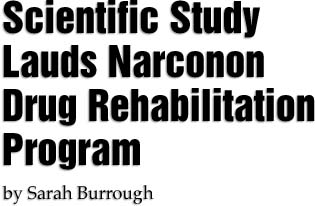 f someone you know is drug dependent, you are probably all too familiar with the symptoms — lack of awareness and alertness; erratic behavior; refusal to communicate; lying or stealing.
You may have tried to help the person and failed, possibly more than once.
Psychiatric efforts to resolve the problem have been lamentable at best, deadly at worst, leaving relatives, social workers and politicians at a loss as to how to restore their loved ones, families or communities to health, happiness and security.
But the Narconon Drug Rehabilitation Program, developed by author and humanitarian L. Ron Hubbard, is different. It was developed after his observation of what he termed a devastating social cataclysm — the drug explosion of the late 1960s and early 1970s. The program has since enjoyed unprecedented success, with surveys of one test group showing that 78 percent of its graduates are still off drugs two years after completion of the program.
An important component of the program is that it removes an essential part of the problem: the need, or craving, for drugs.
Proof of the Narconon program's effectiveness are the thousands of former addicts now living drug-free lives. And, over the last several years, a number of studies have provided a growing body of scientific evidence which shows how some of those results are attained.
The latest of these was released at the 1995 National Institute for Drug and Alcohol Abuse Conference by Forest Tennant, M.D., and Shelley Beckmann, Ph.D.
Tennant is no stranger to drug programs. Working in the field of drug and alcohol dependency since 1968, he rose to national prominence as consultant on drug abuse to the National Football League. He later served as Chief Narcotics Trainer for the California Highway Patrol and California Department of Justice, and he is currently Director of the Research Center for Dependency Disorders and Chronic Pain in West Covina, California.
Beckmann is also a veteran in the field. A biochemist, she spent more than a decade investigating ways to reduce the adverse health effects of chemical contaminants.
The subject of their report was the Narconon New Life Detoxification Program, and what it reveals could revolutionize the treatment of drug dependency.



Mr. Hubbard based the program on the ground-breaking premise that drug residues accumulate in the fatty tissues of the body and can be released into the bloodstream after a person has ceased to take drugs. If these residues cause cravings for more drugs, he reasoned, then eliminating drug residues would end desire for further drugs and hence break the vicious circle of the drug user.



Narconon Chilocco, Newkirk, Oklahoma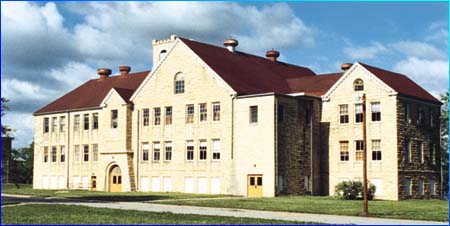 | | |
| --- | --- |
| Narconon Huddinge, Sweden | Narconon Mediterraneo, Spain |
Previous studies of the program have already established that it is extremely effective in reducing chemical levels in the body. However, this new study was undertaken to determine whether sauna sweatout (a regimen of sweating out drugs and toxins, just one component of the detoxification program) would cause
cocaine
metabolites (substances produced in a living organism by the action of those chemical or physical processes which absorb food and break down waste matter) to be excreted from the body in urine and sweat. Such would be a measurable indicator that drug residues were leaving the body.
The subjects of the study were three males and one female between the ages of 36 and 40 years who had been dependent on crack cocaine for periods from eight months to 18 years. Three of them had used the drug within 48 hours of starting the drug rehabilitation program.
After about a week of residential treatment, and continuing daily for up to five weeks, the subjects spent time in the sauna sweatout as part of the detoxification regimen.
Every two to three days, sweat and urine samples were collected and analyzed for cocaine metabolites.



Three of the four subjects showed a measurable increase in sweat or urine cocaine metabolite concentrations when the sauna regimen was initiated, and these continued to be detectable for up to five weeks after the beginning of sauna treatment.
The results confirmed that harmful substances — specifically, in this instance, cocaine — do store in the fatty tissues of the body, and that they can be flushed from the body.
But the Narconon Drug Rehabilitation program is not limited to detoxification; nor does detoxification consist solely of the sauna regimen. The Narconon program is a precise program which includes many other factors, including counseling, exercise and nutritional supplements. And, once the person is through the detoxification regimen and can think clearly again, he examines every aspect of his life so that he handles those aspects which caused him to start taking drugs in the first place.
He does this through a series of courses that address how to study, how to locate and handle those influences in his environment which could start him back on drugs, how to correct behavior that gets him into trouble by confronting and taking responsibility for past harmful actions, how to improve conditions in his life and, finally, how to live by a common-sense moral code.
Given widespread use, this program can halt the cultural decline caused by the proliferation of drugs. L. Ron Hubbard described this decline in 1981, after years of observation and study: "I have even established that there is such a thing as a 'drug personality.' It is artificial and created by drugs. Drugs can apparently change the attitude of a person from his original personality to one secretly harboring hostilities and hatred he does not permit to show on the surface. While this may not hold true in all cases, it does establish a link between drugs and increasing difficulties with crime, production and the modern breakdown of social and industrial culture."
His program was adopted by Narconon, an organization founded by William Benitez, an Arizona state prison inmate. With major support from the Church of Scientology, Narconon is an independent, non-religious program open to people of all races and creeds. It now operates in 37 locations throughout the United States, Canada, Spain, Italy, Russia, France, Switzerland, Germany, Holland, Sweden, England and Denmark.

Cocaine Metabolites in Sweat and urine, Washout Curve, Subject3.


Cocaine Metabolites in Sweat and urine, Wachout Curve, Subject 4.

Narconon is solving the problem, addict by addict, day by day. One graduate's story proves the point.
Niels went to a psychiatrist for help with his problem. Insecure and timid, he first turned to alcohol for self confidence. Gradually becoming an alcoholic, he went to his doctor but was prescribed a psychiatric drug. When he subsequently went back to alcohol, his doctor sent him back to the psychiatrist. The result? He was now addicted to both psychiatric drugs and alcohol. Then he learned of Narconon from a friend.
"There, for the first time, I met with people who really wanted to help me and could do so. There I found warmth and understanding which I never had experienced before. And most of all I found a form of rehabilitation which gave results from the first day and from there on out.
"While I was at Narconon, the problem which I had suffered with for 12 years and that almost killed me was solved. I stayed there for a time to help others out of their abuse, and I saw daily miracles: human wrecks who slowly but surely were transformed into totally normal, capable beings who were able to live without drugs or alcohol. It gave me hope, and it is hope for others as well.
"I have been off alcohol for three years now, and I have a happy life."
This is the story of just one of more than 25,000 who have turned to the Narconon Program for help in freeing themselves from a substance abuse problem — and found it.
For more information about the Narconon program, call Narconon at 1-800-468-6933.