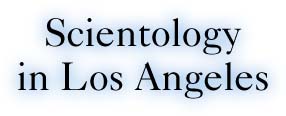 By Pam Shannon
Community Affairs Director Church of Scientology of Los Angeles


sk people active in their local church, neighborhood association or social organizations and they'll tell you the main reason to belong to such a group is the opportunity to help others.

In the wake of September 11, the "looking out for number one" mentality that came in vogue during the 1980s is now history. Understandably, much more willingness exists in our communities to chip in and to embrace helping organizations of all types. This applies not just at home but anywhere help is needed — as exemplified in our cover story featuring the contribution of Los Angelenos at the heart of relief operations in New York City following the terrorist attacks on the World Trade Center.

Sheer necessity spurs that increased community cooperation, but for so many more reasons than just the new threat of terrorism. We have already been under attack in other forms: a few blocks' walk in any direction from most homes and one or more of society's predominant ills — drugs, crime, immorality and illiteracy — will be evident in some form. Today, many of our children grow up believing such factors are merely an integral part of living. And a society debilitated by these ills is in no position to respond adequately to world events but can only collapse under the weight of intolerance, violence, criminality and war.

Churches of Scientology in Los Angeles have been conducting community programs for years which help lift the most vulnerable children out of these conditions and show them they can have a happy and productive future.

While news of terrorists and anthrax may loom large on our TVs, the threat that still touches the greatest number of our young, and therefore our future society, is drugs.

Factually, the pervasiveness of chemical solutions to man's problems is depressing our culture. One need only look at the decline of American education over the past four decades: In the 1960s, drugs and their "culture" began infesting schools. Now drugs are not only commonplace but schools are even forcing students to take "legal" drugs. The Catch-22 is that the more drugs come into use, the more drug-induced turmoil ensues, which is "solved" with yet more drugs — speeding the decline of individuals, families, communities and society itself.

Scientologists, collectively renowned as a drug-free community, have been actively fighting the drug problem for decades. Churches of Scientology have helped hundreds of thousands to free themselves from the destructive and debilitating effects of drugs and toxins in our environment. Scientologists and Churches of Scientology also support Narconon, a secular drug rehabilitation program with real results, featured in this issue.

With community and social groups throughout Los Angeles bringing their solutions to the fore and working as a concerted front, the problems and threats that face our communities can be solved. Our future and that of our children depend on it.

As always, we welcome your comments and views.