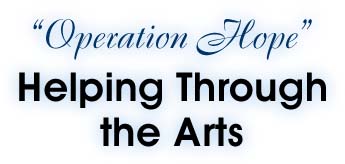 | | | |
| --- | --- | --- |
| | Artists of all ages create cards with messages of gratitude and support for rescue and relief workers in New York and D.C. | |


rtists of all types and ages in Los Angeles deployed paint, markers, pastels, crayons and more to create cards with words of hope, gratitude and inspiration for rescue and recovery workers in New York City and Washington, D.C.
The cards were one feature of an arts festival with a purpose — "Operation Hope: Helping the World Through the Arts" — organized by the Hollywood-based Artists for a Better World International in September.
Artists for a Better World is a nonprofit foundation dedicated to establishing the humanitarian leadership role of artists in the culture.
Crowds of participants from kindergartners to mature adults crowded around tables to create their own messages to the firemen, police and emergency workers.
"Thank you forever, brave firemen", "Our hearts and prayers are with you", and "We love you, New York" were among the messages written on cards in English, Spanish, Japanese and Chinese.
The cards outlived the arts festival which ended on September 23. "Operation Hope" took on a life of its own, with hundreds more cards created since September, and the campaign spreading as far as Africa.
Renowned fine artist and educator Larry Gluck, recently honored at the festival for a lifetime dedicated to developing artist ability in others, said Operation Hope was done in the spirit of the words of author and humanitarian L. Ron Hubbard who once said, "A culture is only as great as its dreams, and its dreams are dreamed by artists."
"We can help change the current world scene for the better through the arts," Gluck said. "This is just one way to help bring that about."