Youth for Human Rights
by Cat Tebar
Campaign seeks to educate children in principles of human rights and their practice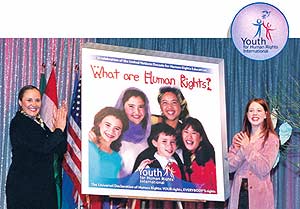 Actress Lynsey Bartilson (at right) and Youth for Human Rights director Mary Untiedt unveil human rights booklet for youth at event in Los Angeles.

Actress Lynsey Bartilson (Grounded for Life, Fox TV) is spearheading a Los Angeles-based campaign to educate children worldwide in human rights, empowering them to create a better future for themselves and others.

One of television's brightest young stars, Bartilson hosted a reception for Youth for Human Rights for hundreds gathered at the Church of Scientology Celebrity Centre International in Hollywood on March 21, 2002. Guests included a diverse range of city and community leaders — from then Los Angeles Chief of Police and the consulate general of Belize to a leader of the Blackfoot Indian Nation — all rallying to the cause of children.

The actress proclaimed the official purpose of Youth for Human Rights — "To teach youth around the globe about human rights, thus helping them to become valuable advocates for the promotion of tolerance and peace."

Toward this objective, on behalf of Youth for Human Rights International, she officially unveiled a new publication, "What Are Human Rights?" — a fully illustrated children's version of the Universal Declaration of Human Rights. Designed to be understood by children throughout the world, the booklet has been translated into many other languages, including Russian, Finnish, Norwegian, Swedish, Danish, German, Dutch and French.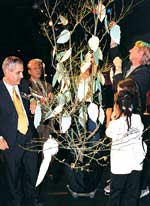 Guests pin human rights pledges on a "tree of promises."

Speakers at the event, representing UNICEF (United Nations International Children's Emergency Fund), the UNA (United Nations Association), First AME Church in Los Angeles, the American Iranian Friendship Association, the Human Rights Department of the Church of Scientology International and Friends of the United Nations, addressed the many deplorable conditions facing children in the world today in violation of their basic human rights as expressed in the Declaration.

"I applaud the purpose of Youth for Human Rights. I would strongly recommend them to educational and youth institutions and organizations," said Irving Sarnoff, founder and executive director of Friends of the United Nations.

He reminded those gathered of the words of Kofi Anan, Secretary General of the United Nations, who issued a message to all children concerning the importance of the Declaration: "'Young friends, all over the world, you are the ones who must realize these rights, now and for all time. Their fate and future is in your hands. Human rights are your rights. Seize them. Defend them. Pronounce them. Understand and insist on them. Nourish and enrich them. They are the best in us. Give them life.'"

Response to "What Are Human Rights?" has been gratifying, according to Youth for Human Rights founder, Mary Untiedt.

"The value of teaching young people the rights that they have as their birthright is catching on. Children are extremely interested in learning about this," she said.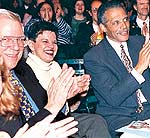 (Left to right) Heber C. Jentzsch, President Church of Scientology International, Janet Weiland, Vice-President Church of Scientology International, and Bernard Parks.
Human Rights Instead of Degradation
Untiedt, a Los Angeles founder and principal of a private school, started Youth for Human Rights International in 2001 after becoming increasingly angered by the access children have to degrading and offensive material on the Internet. She found that the Internet, for all its educational good, has also become the primary recruiting ground for white supremacist, anti-Semitic, anti-Muslim and other hate groups.
Untiedt decided to harness the Internet's power to counter human degradation and hate with human rights by amassing an army of youth to advocate for human rights.
"I believe that any child wants to do something about the cruelty and injustice he finds in his world if he can find a way," she said.
She provided a way by establishing Youth for Human Rights International, and a means by which children anywhere could champion the Universal Declaration of Human Rights, the most embracing and fundamental document on human rights ever written. Its 30 articles were forged in the crucible of World War II; it was First Lady Eleanor Roosevelt who brought together some of the brightest minds of her day to create a document that might help future generations to live in a world that did not resort to wholesale slaughter to solve its problems.
The first United Nations Assembly endorsed the Declaration at Palais de Chaillot in Paris on December 10, 1948. Today 189 nations have affirmed their support and commitment to see that the Declaration, in the words of UN Secretary General Javier Perez de Cuellar, in office at the time of the 1948 signing of the Declaration, is "disseminated, displayed, read and expounded principally in schools and other educational institutions, without distinction based on the political status of countries or territories."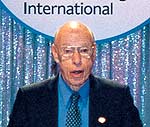 Irving Sarnoff, Friends of the United Nations.

"Yet, more than five decades later, the document is virtually unknown to children. It isn't disseminated, displayed, read or expounded. A crucial tool for peace is not taught and has become largely forgotten," said Untiedt.

Using a simple website, she launched an essay contest in Europe, moving from city to city to coincide with the route of the European Marathon for Human Rights, an annual event sponsored and organized by the International Foundation for Human Rights and Tolerance, a Los Angeles-based organization established by the Church of Scientology International.

Throughout the summer of 2001, children in Hungary, the Czech Republic, Spain, Austria, Italy, Germany, Switzerland and Great Britain were invited to learn about the Universal Declaration of Human Rights and to submit essay entries on "What Do Human Rights Mean to Me?"

Response was instant and enthusiastic. In some cities, local radio stations broadcast the message so that more children could learn about the contest.

The entries streamed in.

As Daniel Rupp of Austria, 15, wrote in his essay, "Discrimination of any sort is not born in the children's hearts. I appeal to the good sense of the adults to let human rights prevail."

Baguani Kiringi, 15, of Switzerland wrote, "I do not know too much about human rights, but I know for sure that any man should have free religion, a right to live in a flat, to work and to express his opinion freely. Due to the color of his skin he should not be discriminated. I myself have a darker skin colour and it has happened to me that certain persons did not appreciate this at all."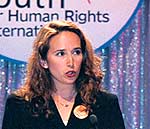 Katie Scolari, UNICEF.

Children as young as 10-year-old Stefanek Gabor of Hungary wanted to be heard. "Human Rights are harmed in many countries. People are not happy there," he wrote. "I hope that you are free and happy. Good freedom for you."

As the European Marathon ended its long trek in Geneva, Switzerland, three finalists and their parents were flown to the city to be honored at the headquarters of the United Nations' Human Rights Commission. The young writers' reception was heartfelt and enthusiastic.

From there, Untiedt went back to the words of United Nations Secretary General Javier Perez de Cuellar, in office at the time of the 1948 signing of the Declaration: educational institutions were to carry the message forward.

For this to happen, there must be a text on the Universal Declaration of Human Rights just for children, and Untiedt could not find one anywhere.

Thus Untiedt's next challenge would be to bring the Declaration to children in their schools. Connecting an L.A. artist, an Italian graphic designer and a basic text amended and authorized by Friends of the United Nations, "What Are Human Rights?" was created.

"Through this booklet, we're offering our children a tool with which to create a new world," said Untiedt at the celebrity-hosted unveiling in Los Angeles. "We must commit ourselves to help them get the job done."