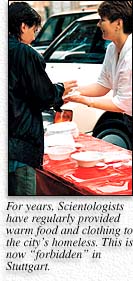 Unchecked Hatred Drives a German City Government Beyond the Brink


our help is forbidden." That is effectively the content of a new law passed by the Stuttgart City Government as the latest move in its campaign of prejudice against the Church of Scientology.
Bill No. 5.4858.700 124.7, passed into law on January 29, 1997, has only one subject. The text states:
"It is prohibited for Dianetics Stuttgart, the Church of Scientology, its members and employees or other commissioners to distribute beverages, food and clothes to the homeless and to offer them houses which were rented by you or on your behalf in the Klett-Passage, in the Rotebühl-Passage, at the Castle Square or in any other public place."
For years, Stuttgart Scientologists have regularly provided warm food and clothing to the city's homeless. This program has always been funded and carried out entirely by volunteers—with no cost to, or apparent interest from, the city. Nothing has ever been asked in return, and nothing has ever been accepted, from the destitute individuals helped. No government or private body has ever been asked to support the program in any way and none ever would be.
Due to the "severity" of the situation, the Stuttgart government had the bill hand-delivered to the Church of Scientology the same day.
The government's fury at this "un-German" behavior can be seen in the penalty for disobedience:
"In any case of violation an administrative enforcement fine of DM 3,000 [$2,300]" will be levied.
The reasoning for the law? It is needed because "these social help actions could serve to improve your bad reputation in the public."
But there is one final thing: "An administrative charge of DM 100 is imposed for this order."
In other words, the Church has to pay to have its charitable works quashed—to cover the "administrative effort" expended by the government in violating the country's constitution and the international human rights accords Germany has pledged to uphold.
Politically mandated discrimination against German Churches of Scientology and their members has been observed and commented upon by the U.N. Human Rights Commission, the U.S. State Department, the Helsinki Commission, the Rutherford Institute, members of the British House of Lords, members of the Dutch Parliament, Jewish scholars, Holocaust survivors, and an endless host of individuals.
The official German response? "These people don't understand Germany. We have a special history and have to take special actions to preserve the German way of life."
Bill No. 5.4858.700 124.7 is an example of the "special actions" required to preserve the status quo.
Perhaps Chancellor Kohl is right—the world just does not understand Germany.
But more likely he is wrong—the world does understand.