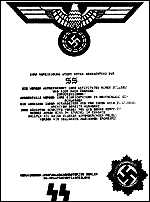 In defiance of its own Constitution and its international commitments to the protection of human rights, the German government is in control of the media and uses newspapers, radio and TV as its own weapons of propaganda against the Church.
For example, while exercising its state authority to prevent Scientology from airing public information messages describing what the religion is, national German TV was paid from a 2 million Deutschmark fund for an advertising campaign promoting a book critical of the Church of Scientology by known con-artist Renate Hartwig.
The response of German national media to public advocacy messages in American newspapers drawing attention to government-instigated campaigns of discrimination against minorities has been to circle the wagons around the German politicians and to rabidly attack the Church of Scientology for standing up and speaking out.
Since reunification, tens of thousands of Scientologists have been targets of hate campaigns originated by government officials and fomented daily by the media. Scientologists have been depicted by German media as octopus, vampire bats, demons, spiders and devils. One newspaper headlined a demand by an opponent of the Church that Scientologists should not be allowed to have children. Like obedient lapdogs, the "independent" media do the bidding of hatemongers in the German government—in violation of our Constitution and to the detriment of Germany's reputation on the international stage.