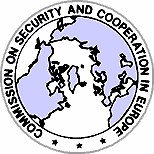 n this, the "International Year of Tolerance," the Conference on Security and Cooperation in Europe (also known as the Helsinki Conference) held its International Seminar on Tolerance in Bucharest, Romania, May 23 through 26.
Representatives of the Church of Scientology attended and evidence was presented about the heinous acts of discrimination against members of the Church in Germany. A report was also presented on the broader subject of tolerance and discrimination entitled Religious Toleration and Religious Diversity, by Dr. Bryan Wilson of Oxford University.
Those in attendance from countries across the world expressed reactions varying from concern to outrage over the hatred and intolerance incited and sanctioned by the German government against members of the Church of Scientology. Even representatives of the German delegation itself could only be defensive and talk of the need for human rights and tolerance in their country.
And well they should. Recent months have seen the publication of blistering international reports censuring German violations of human rights against Scientologists.

Reports Take Strong Positions Against Bigotry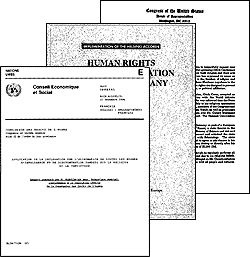 The United Nations Human Rights Commission made its strongest condemnation of human rights violations in Germany since World War II with the release of its annual human rights report. Four pages of the document, released in Geneva, are devoted to human rights abuses and discrimination by government bodies and officials against members of the Church of Scientology.
One of those was the unconstitutional acts by the government of Baden-Wuerttemberg, forbidding jazz great Chick Corea to play there because of his membership in the Scientology religion.
The report confirms the annual Human Rights Report of the U.S. Department of State which was released one week earlier and also recognized human rights violations against Scientologists in Germany.
The U.S. State Department report acknowledged that members of the Church of Scientology in Germany have been subjected to discrimination and harassment, and have been forced by the actions of government officials to seek protection and relief from the courts.
The State Department's Human Rights Report for 1994 focuses on a few key countries that are of direct concern throughout the world because of their human rights violations.
This is the strongest position to date against German bigotry by the United States government.
It also cites numerous examples of unsuccessful attempts made by local government officials to stop expansion of the Scientology religion in Germany.
Church of Scientology spokeswoman Leisa Goodman said, "The U.N. report documents a litany of abuses in which children, parents, businessmen and members of political parties are singled out because of their religion.
"We have also documented abuses against the Mormons, Turks, Blacks and other minorities," said Goodman. "Today, international conventions protect the inalienable rights of every person. Institutions with necessary judicial powers guarantee compliance to human rights."
To be condemned by such a commission is damaging to a country. It shows that those responsible have failed to carry out one of their most important duties.