The Posse of
Lunatics
A Freedom Special Report
Tom DeVocht:
Consummate Con Man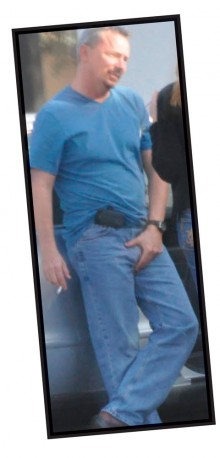 Tom DeVocht to a tabloid TV host: "Put me on a lie detector test. I would do that in a heartbeat."
And why not? When you're a genuine pathological liar, a polygraph will hardly register anything more than a flat line.
So let us review the life of Tom DeVocht in this light:
A charter member of the Rathbun "Posse," DeVocht formerly served as a Church construction manager in which capacity:
He enlisted a convicted felon to broker a Church property acquisition. Sure, it cost the Church about a million in cash, but what the heck? At least the ex-con was good enough to pass DeVocht a few perks under the table, including absolutely primo tickets to a ballgame.
He ordered construction of an unauthorized energy plant, then even co-signed a loan for installation and materials. Just because the company promptly defaulted on said loan didn't mean the deal hadn't looked good on paper.
He scrambled instructions on 224 work orders, without a word to his superiors. Okay, so there were cost overruns, blown budgets and inordinate project delays. But Rome wasn't built in a day either.
He failed to follow Church policy and thereby establish and run a cost-effective construction unit. The unit was supposed to organize major contracts with reputable global firms to benefit from consolidated design, construction and purchasing power available to the Church as a major client. In other words, it's exactly what the Church now utilizes to build Ideal Churches of Scientology at a fraction of the cost DeVocht would have imagined impossible. Instead, DeVocht ignored these explicit instructions, did nothing to locate such firms and squandered Church funds—all of which is why he was finally dismissed. But, hey, he never said he was trustworthy.
From a tabloid media perspective, however, DeVocht possessed just that right touch of "simple innocence"... which is to say, he looked too stupid to lie.
But apparently in DeVocht's case, even looks can be deceiving, because he did, indeed, lie while television cameras rolled. When the anchor politely inquired about whether the "Posse" had colluded to get their stories straight, Tom pipes in with, "Yeah. Let me dispel that right now." Only trouble is, Amy Scobee subsequently admitted under oath that she had spoken to Rathbun, Hall and DeVocht prior to their interviews with a certain tabloid TV show. Oops!
So the media wheels DeVocht out to corroborate the tales of Marty Rathbun. In particular, DeVocht claims he was one of those whom Rathbun alleges was abused within Church management circles.
The claim is all the more sensational inasmuch as DeVocht had previously boasted to bullying/beating others in a kind of tag-team assault with Rathbun. Also like Rathbun, DeVocht especially enjoyed wrestling Mike Rinder to the ground.
But for DeVocht to suddenly claim he himself was abused—this was a whole new wrinkle.
It's nothing the man ever previously so much as mentioned—either within the Church, outside the Church, or to his former wife. But be that as it was, it led to among the few memorable exchanges on that tabloid TV show:
DeVocht's former wife, Jenny Linson:
"I slept with Tom DeVocht for almost 20 years. I knew every inch of him. I never saw one scratch. I never saw one bruise. I never saw one black eye, nothing."
DeVocht:
"I never claimed to have bruises or scars or anything like that to begin with so it's sort of irrelevant."
But in fact it's not irrelevant at all. Merely, DeVocht was so slow on the uptake he missed the logic train, i.e., that he claimed to have bruises or scars was not the point of his wife's refutation; it was that someone who was actually beaten would have obviously exhibited bruises and scars.
Or to phrase it in terms of his own skewed thinking: It doesn't matter whether physical evidence "sort of" exists to prove what he's saying because he never claimed there was physical evidence in the first place. But, of course, if there is no physical evidence, doesn't that mean his allegations are "sort of" false, which in turn means DeVocht is "sort of" lying?
His former wife, of course, would more than "sort of" agree.
To cite but a fraction of what Tom brought to their marriage...
He stole several hundred dollars from the purse of his wife's grandmother on their wedding day.
He squandered $100,000 of his wife's inheritance behind her back.
He sold her vehicles, likewise in her absence, then left her after 19 years without so much as a note.
After a brief stint selling used cars (a gig almost too cliché for a serial liar), DeVocht went on to repossess furniture from storage rooms and hawk the stuff on eBay. That business soon failed.
But, of course, DeVocht's primary métier, the one he's followed through the whole of his adult life—that he has never lost sight of, never questioned, never abandoned.
To wit:
"I would never even consider I was doing wrong unless I was caught out and then my only sorrow was for being caught...lying was not wrong unless I was caught out and couldn't lie my way out of it—the actual wrongdoing wasn't wrong if I could get away with it."
In the end, what does it really matter? Liar, pathological liar, whatever. He is what he is.
And that's the Tom DeVocht the media introduced as an unimpeachable source to corroborate the lies of Marty Rathbun.
PS: Breaking News! Tom DeVocht was recently spotted working a kiosk in a Florida shopping mall selling Zany Bands (multicolored rubber bands that form the shapes of animals when not on the wrists of their little-kid purchasers).
PPS: This just in—DeVocht is back to selling used furniture, financing the new venture by emptying his living room and putting his own couch on the block. That's what you call an entrepreneur!