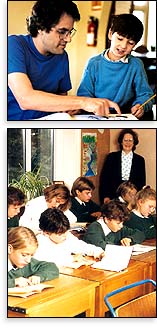 Pre-eminent French educator Paul Guth expresses high praise for the contributions of L. Ron Hubbard in the field of learning.
"Here are some of the reasons, my dear colleagues, that engage me to tell you, read, read, read L. Ron Hubbard: Humanitarian – Education.
"This is the total masterpiece ever written on education."


hus begins an open letter recently written by top French teaching expert, Paul Guth. Mr. Guth has been an educator for more than half a century and is France's most outspoken proponent of reform in the field. When he speaks on what's wrong with education, everyone in France listens. (See "Freedom Interview".)
The subject of his praise: the latest in a series of publications describing the many significant contributions to the humanities made by L. Ron Hubbard.
The Humanitarian – Education traces Mr. Hubbard's research into the process of learning from the 1930s and throughout his lifetime, and the procedures he developed to make study in any field far more effective.
Aptly described as "Study Technology," the Hubbard educational system is entirely unique. Far from a "study habits for success," or "tips for straight-A's," his methods are absolute bedrock on the subject of learning.
Study Technology is employed in schools, universities and private educational institutions around the globe. The need for such effective methods is indisputable.
So it is not surprising that Mr. Guth observes that these principles have very broad application potential: "Mr. Hubbard nurtures supreme ambitions; as Hubbard says, 'Our intention is not to save a few students, our intention is to reverse the whole downtrend of education in the 20th century.'
"Ron Hubbard has shown that reading and writing are not only the 'a.e.i.o.u.', but are 'the key to taking part in this world.'
"The Hubbard method has no limit.
"It applies to the education of all students in all subjects."
Theory and Practice
Delineating the three fundamental barriers to study and providing the means to surmount those barriers, Study Technology actually represents the first and only system by which a student actually learns how to learn.
The methods are equally applicable to the study of any subject, whether practical or theoretical, resulting in a full and lasting comprehension.
"Mr. Hubbard makes us jump over the barriers that block studying," adds Mr. Guth.
"The power of words; they are not a purely academic and arid subject.
"They carry the flow of the civilization in progress. ...
"This can help you in your classroom."

Broad Contributions

L. Ron Hubbard is perhaps best known to most as the founder of the Scientology religion. To others he is known as an author who excelled in many genres, and whose non-fiction works provide unique insights over an extraordinarily wide scope of scientific and humanitarian topics.
Mr. Guth is not the first to acknowledge his contributions in the field of education. After the 1990 publication of a book on a new approach to teaching grammar written by Mr. Hubbard, many hailed it as an extremely significant contribution to our understanding of language and its use.
"In this time of widespread illiteracy L. Ron Hubbard introduces a book that makes grammar understandable and useful to all," wrote Dr. David Rodier, Associate Professor of Philosophy of Language at American University, Washington, DC.
"Only a professional writer with a writer's sensitivity to language could have written such an innovative approach to grammar," continued Prof. Rodier.
To say Prof. Rodier was unequivocal in acknowledging the book's potential for creating widespread improvement in educational standards would be an understatement. "This is a brilliant book by a brilliant mind," he said. "In fact, it is a revolution in thought."

Success in Canada

The effectiveness of Study Technology is nothing new to many Canadians. To date, four private schools have been established where students apply the methods throughout a standard academic curriculum.
Additionally, three community-based literacy projects in Toronto and one in Ottawa use the principles to assist anyone with reading, writing and learning problems. The schools and literacy projects are all administered under the umbrella of Applied Scholastics Canada – a non-profit, public benefit organization whose whole purpose is to improve literacy worldwide through the use of Study Technology.
Liz Zahari, executive director of Applied Scholastics Canada, recently received a special award from the Mid-town Boys and Girls Club in Toronto, recognizing her achievements in helping children at the Club. Up to 20 students at a time have been enrolled in the program. Students from the Heritage School in Vancouver have also been commended for helping others. With a toy drive last December they ensured children from broken homes would not be forgotten at Christmas.
But the real news is the real possibility that at last education is available to anyone, as this adult student said after tutoring at one Applied Scholastics literacy project:
"The study technology is powerful. It makes you want to learn, makes you your own teacher. These people stuck with me until I woke up and realized that I could learn and that I wanted to." – P. Mansell

L. Ron Hubbard: The Humanitarian – Education can be obtained from any Church of Scientology. To obtain a copy, or to find out more about Mr. Hubbard's Study Technology, write to the Church of Scientology of Toronto.
Complimentary copies are available upon request to educators, media and public officials.