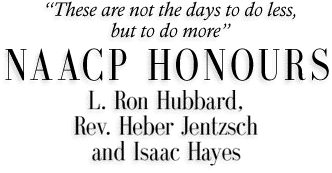 By Chris Leedy


here may be no civil rights organization as accomplished as the National Association for the Advancement of Coloured People (NAACP), which in its 88 years endured many hardships to now emerge with more than a half-million members in countries as diverse as the United States, Great Britain, Germany, Spain and Japan – bigger and stronger than ever.
Yet the matter which was foremost in the mind of NAACP President Kweisi Mfume as he spoke to the delegates at the NAACP 1997 Western Regional Conference in Los Angeles, California was not what has been achieved but what the organization must now become.
"We must be an organization judged not by the words we say," said the five-term U.S. Congressman and chairman of the Congressional Black Caucus who resigned his elected office to become the President and CEO of the NAACP, "but by the deeds that we do. These are not the days to do less, but to do more."
He noted that the organization must be one of effective action against all things that stand for "discrimination, bigotry, second-class citizenship and all of that other foolishness," but he also called for members to explore different approaches to addressing these problems and to do things which, even if unpopular, bring results and change. "The road less travelled may still seem less certain, but it is also often the one of greater reward."
It was in that vein – seeking effective action and those who carry it forward – that the NAACP Western Region presented special awards to individuals who are bringing first-class citizenship within reach for all. Rather than given at annual affairs, such award presentations only occur when truly outstanding achievement warrants it.


President of the Church of Scientology International, Rev. Jentzsch stressed the importance of literacy as a solution to crime, drugs and moral decay.


Rev. Heber C. Jentzsch, President of the Church of Scientology International, was honoured on April 26 by the NAACP for his decades of support and contributions to the African-American community.
In the presence of NAACP national board members, Regional Director Ernestine Peters and 300 NAACP leaders and members attending the NAACP Western Regional Conference, Rev. Jentzsch accepted the Roy Wilkins Outstanding Leadership award for the Church's work to establish and defend human rights.
He also accepted an award which came as a surprise to nearly all in the audience--one named after an NAACP co-founder who pioneered in the association's work to bring equality and end human rights abuses. "This next award goes to the man behind this all," said Ms. Peters, "a man who has made this all possible. A man who has done so much around the world to help our people and all people in all areas of life, all over the world. He is a true humanitarian who has forwarded literacy, education and civilization. I am very proud to present the NAACP Doctor W.E.B. Du Bois Outstanding Leadership Award to the late L. Ron Hubbard."
Rev. Jentzsch received the award on Mr. Hubbard's behalf. In his acceptance speech, Rev. Jentzsch stressed the importance of literacy as a solution to crime, drugs and moral decay, "which are the fertile ground for racism, conflict and the destruction of human rights."
The Church has established and supports volunteer literacy programs throughout the United States and other nations. The best-known program started in Compton, California, after the 1992 Los Angeles riots and rapidly grew into the World Literacy Crusade which has gained international prominence for bringing reading and study skills to thousands.
The man who introduced Rev. Jentzsch to the assembled audience, Rev. Alfreddie Johnson, was uniquely qualified to speak on this subject, being co-founder and director of the World Literacy Crusade. "The Crusade was born from the ashes of the 1992 Los Angeles riots," he said. "Rev. Jentzsch was there and he helped us realize that we could do so much more to re-build our communities and our people and emerge stronger than before, through addressing one of the root causes behind the social problems we were faced with."
Legendary performer and composer Isaac Hayes, a true leader for the African-American community and international spokesperson for the World Literacy Crusade, addressed the conference telephonically from New York.
Hayes spoke to congratulate Rev. Jentzsch, but also to support the innovative program which he helped to bring to then riot-torn Los Angeles and which is now the centerpiece of Rev. Johnson's World Literacy Crusade: "My real concern is education. Our people have been held down too long. They have been given all kinds of tags, by those who want us to believe that we cannot achieve. The study technology developed by L. Ron Hubbard offers a workable answer. I have been around the country helping to put together a number of programs that are helping our people learn how to learn." Hayes has been an active and vocal supporter of and spokesman for the Crusade.
| | | |
| --- | --- | --- |
| | Rev. Heber Jentzsch (right), President of the Church of Scientology International, accepted the Dr. W.E.B. Du Bois Outstanding Leadership Award on behalf of Scientology Founder L. Ron Hubbard. NAACP President Kweisi Mfume is at left and Western Regional Director Ernestine Peters is in center. | |
For his many contributions to advancing the cause of human rights and improving education and living standards for his people, there was another surprise presentation: Isaac Hayes was honoured with the NAACP's James Weldon Johnson award.
Rev. Jentzsch said that he was "deeply touched and honoured" by his award, which acknowledged, among other contributions, the Church's work to vindicate civil rights in the 1970s and his exposure of involuntary experimentation and other abuses of minorities in the name of "mental health." "This is an especially great honour, as the NAACP is an organization to which all Americans and all free people are indebted," he added. "By fighting and winning the battles you have taken on, you have brought a future to so many people of all creeds and colours."
But the message he stressed in accepting the award was appropriately trained on the future, not the past. "The World Literacy Crusade and its affiliated groups have expanded to more than 30 programs in the United States, Australia, New Zealand, Africa, Canada and elsewhere," he said, "and with their growth comes ever-greater opportunity to vanquish illiteracy and ignorance everywhere.
"As we move into the 21st century it is time that all peoples be given the opportunity to achieve, and the opportunity to fulfill their true potential."