Images of a Lifetime
Expansive photographic display chronicles the life and achievements of Scientology founder L. Ron Hubbard, providing citizens with a unique opportunity to meet the man for themselves.
The restored and refurbished Crystal Ballroom on the 10th floor of the Fort Harrison Hotel, a cherished landmark in its own right, was enough to attract guests at the Fort Harrison's 75th anniversary gala and open house.
But that was far from the only reason guests flocked to the grand room with its spectacular views of the Gulf and the Bay Area.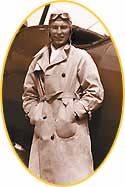 Rather, the word had quickly spread that it also housed an extraordinary exhibit, "Images of a Lifetime," featuring a photographic chronology of the life of the founder of the Scientology religion, L. Ron Hubbard.
As visitors perused those hundreds of photographs accompanied by explanatory text detailing Mr. Hubbard's life, many expressed surprise at how one man had been able to accomplish so much in a single lifetime.
"I just did not realize there were so many different sides to L. Ron Hubbard," said one guest after completing the tour. "There is the humanitarian side, there is the emphasis on education and with helping people overcome drugs."
"The volumes of writing that he did is just incredible," said another guest, a local CEO. "I've never seen anything so vast. The man had to be totally committed to his fellow human beings."
"Images of A Lifetime", which has traveled throughout the world, came to Clearwater specially for the 75th Anniversary gala celebration and remained on display in the Fort Harrison Hotel's Crystal Ballroom for four weeks.
The Exhibit describes the 31 different professions and arts Mr. Hubbard fully mastered during his lifetime. He was a skilled aviator and mariner—licensed to sail any vessel on any ocean—conducted expeditions under the auspices of the prestigious Explorers Club, traveled to six of seven continents as a young man and served in the U.S. Navy in the Pacific and Atlantic during World War II. He was a professional photographer, cinema director and musician, and above all else, he was an accomplished author whose fiction and non-fiction works can be found today in more than 150 countries and more than 50 different languages.
The exhibit includes a selection of Mr. Hubbard's own professional photographs.
...........................


"The breadth and scope of his work was extraordinary. How he crammed all those activities into a single day is incredible to me. I think he is the most amazing human being of the 20th Century."
– Visitor to the Exhibit


...........................
"The breadth and scope of his work was extraordinary," said a local businessman who toured the exhibit. "How he crammed all those activities into a single day is incredible to me. I think he is the most amazing human being of the 20th Century."
Judith Saldarriaga, the personal representative for L. Ron Hubbard in Clearwater, said that the public response to the exhibition has been "overwhelming."
"People want to know who L. Ron Hubbard was and are always amazed at what he accomplished," she said.
"What many people don't know about Mr. Hubbard is that even from a very young age, he had an insatiable curiosity about life," she said. "His fulfillment of that curiosity is not just the fascinating story of a life, but the story of a legacy that is helping people all over the world."
An understanding of Mr. Hubbard helps to bring an understanding of the religion he founded, and the secular, humanitarian programs it supports.
For more than half a century, he worked to chart a workable path for people to understand their true spiritual nature, and to use that understanding to achieve freedom from the suffering of life for themselves and others. His discoveries are found in the vast body of written and recorded material that comprises the scripture of the Scientology religion.
As depicted in the exhibit, Mr. Hubbard also sought and developed solutions to societal ills that entrap individuals or hold back their potential. Today, his answers for education, drug rehabilitation and criminal reform are used by millions across the globe.
The Narconon drug rehabilitation program, for example, utilizes Mr. Hubbard's breakthrough discoveries in the field of drugs to end addiction. Internationally, Narconon has more than a 70% rate of success for those completing the program, remaining drug-free for at least a year after graduation.
"The average success rate for most other drug rehabilitation programs is about 25%," said Clearwater Narconon spokeswoman Elizabeth Navarro. "What makes Narconon different is that the addicted person actually gets to the root of why they started to take drugs in the first place."
Other social betterment programs featured in the exhibit include Applied Scholastics, which provides workable solutions to the problem of literacy, and Criminon, one of the most effective criminal rehabilitation programs in the world today.
"In addition to founding a religion that now is found in 150 countries throughout the world, Mr. Hubbard found solutions for the three plagues of our modern society—drugs, crime and illiteracy," said Judith Saldarriaga. "This photo exhibit really gives a person an understanding of Mr. Hubbard's motivation and his life's accomplishments."
As a result of popular demand, the "Images of a Lifetime" exhibit will remain on permanent display during the weekly historic Fort Harrison Open House and Tour every Sunday from 11 a.m. to 8 p.m. All are welcome to visit.