An Organization is Born

Meanwhile in Southern California, Joan asked Avi Lonstein, her son and a successful business owner, to take on the post of Executive Director of the new organization that they were forming, the Association for Peace and Understanding in the Middle East (APUME). Their objective was to provide every Palestinian and Israeli family with a The Way to Happiness booklet, three million copies. They quickly brought together 30 members — Palestinian and Israeli Southern Californians, working together as they hoped their counterparts would in the Middle East. The volunteers began holding Palestinian-Israeli picnics, a "Dance for Peace" and other fundraisers to pay for the printing and distribution of The Way to Happiness booklets.

Within the first year and a half, Israeli volunteers distributed more than 300,000 copies of the Hebrew edition of the booklet. The editor of an Israeli business publication inserted it into 90,000 copies of his paper with this preamble to readers, "In my quest for happiness, tranquility and joy, I encountered a little booklet called The Way to Happiness. It touched me and changed my thinking. I would like to let you, my readers, participate in my experience and so I am honored to give you this booklet as a little present... Read it and pass it to your friends and dear ones."

Open Arms in Palestine

While the Association was rapidly distributing Hebrew booklets and Arabic booklets to Arabs living in Israel, virtually none were being distributed to the Arabs outside Israel who were participating in the Intifada, the Palestinians. Avi explains: "We had no contacts in the Palestinian areas and no infrastructure to carry out distribution. On top of that, border closings and roadblocks made it all but impossible to travel into these zones."

After a year of searching for a way to get the booklets into the hands of Palestinians, a friend of one of the Los Angeles volunteers, a retired Israeli army colonel, offered his help. The retired colonel returned to Israel from Los Angeles. As a senior military officer, he talked his way through roadblocks and borders. He traveled unarmed into Palestinian areas and then safely returned to the U.S., having distributed 40,000 booklets.

This was only the beginning. Palestinians quickly saw the potential of the booklet for bringing hope and a new beginning to their people.

Ms. Zeinab Habash, of the Palestinian Ministry of Education, tells of her discovery of The Way to Happiness booklet by way of an e-mail she received from Vidislavski's Israeli office. It directed her to The Way to Happiness Foundation website. "The Way to Happiness booklet attracted me like a magnet," she said. "If there is a book that leads to happiness, I want one million copies for the children who are the most hungry for happiness — the Palestinian children." In her return e-mail, she requested 1 million copies. "Needless to say, this e-mail caused quite a stir," says Vidislavski.

Ms. Habash has since made study of The Way to Happiness part of the Palestinian public school curriculum. She has also personally distributed more than 23,000 copies of the Arabic translation. Her subsequent e-mails paint an entirely new picture of hope: "From tomorrow morning...all the booklets will turn to be like angels flying everywhere in Happy Palestine. Some of them will be read for the second time or more, then fly like butterflies from one flower to another, i.e. from one hand to another."

And another, to The Way to Happiness Foundation: "This tiny booklet has made miracles for all of us.... Without it, I won't have such great HOPE in achieving JUSTICE, PEACE, FREEDOM and HAPPINESS, not only for us in the Middle East, but rather for ALL the people of the world."

Peace Factor: One Booklet per Household

"One of the most interesting museums in Hollywood"
-- Museum companion to Los Angeles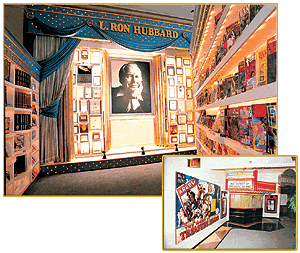 L. Ron Hubbard has been aptly described as "a man ahead of his time, defying any simple categorization." Fully professional in 29 different fields, his life was one of constant adventure.

Millions of lives have been touched by the man known as "Ron" to his many friends; yet many know little about him beyond his name and the value of his works.

You can step inside the life of Mr. Hubbard at the L. Ron Hubbard Life Exhibition in Hollywood, winner of the prestigious Hollywood Legacy Award. Unique among museums and exhibits, it features the life and works of only one man, in more than 30 displays and exhibits.

The L. Ron Hubbard Life Exhibition is located at 6331 Hollywood Blvd., Los Angeles, in the historic Hollywood Guaranty Building at the corner of Hollywood and Ivar.

It is open from 10 a.m. to 10 p.m. seven days a week. Advance bookings are recommended — call (323) 960-3511.

You can also visit and tour the L. Ron Hubbard Life Exhibition online at: www.lronhubbard.org

Under Executive Director Avi Lonstein's leadership and driving force, members of APUME in Los Angeles push themselves each week to raise the funds needed to meet the spiraling demand for booklets. One volunteer, Rivka Adini, who had fond memories of sitting on a stool watching her father sell carpets and antiques in a little shop in Israel, started the Association's "Moroccan Bazaar." In its infancy, the Bazaar could have been mistaken for any other Angeleno yard sale. But soon Rivka was asking for and receiving donations of the kind of treasures that her father sold — jewelry, carpets, artwork and antiques, with her team of volunteers selling these items every few weeks in different LA locations. The proceeds generate the bread-and-butter funding for the Association.

With the help of these and grants from the International Association of Scientologists, in the last three years, the Association has distributed more than 1.5 million The Way to Happiness booklets to Palestinians and Israelis. This is slightly better than halfway towards the goal of one for every Palestinian and Israeli family.

Public opinion surveys conducted by Hebrew University and a Palestinian research center have found that as the booklets are distributed, public support for peace builds among both Israelis and Palestinians. The most recent public opinion polls show that over three-quarters of both Palestinians and Israelis now support taking the hard steps towards a lasting peace. This shift in public opinion has culminated in the current peace talks, a step forward, however fragile.

The joint American/Israeli/Palestinian The Way to Happiness campaign works daily to bolster the foundations for peace among ordinary Palestinians and Israelis. In the words of Avi Lonstein, Executive Director of the joint campaign, "We work individually, one person at a time towards our goals, working for an uplift in integrity and decency, and sparking hope in each individual with whom we connect."

That is the peace factor, say the Lonsteins, and APUME has a full head of steam now to make it a fact.