Peace and Happiness from Neighborhoods to Nations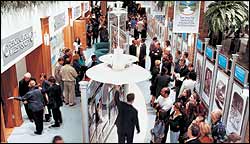 Hosting volunteers and supporters from every continent, The Way to Happiness Foundation shows the books precepts — and the successes of its programs worldwide — on display in the foyer of the new international headquarters.

Shuki Mizrachi, a newspaper publisher from Israel and retired Air Force major of that nation, dared to embrace his Palestinian neighbors, utilizing the precepts of The Way to Happiness.

He described his groundbreaking distribution of The Way to Happiness as a special insert in his 300,000-circulation newspaper: "It was such a relief to know that I did something good that would lead my readers to their own enlightenment, and that will spread many good deeds....

"We in the Middle East are sitting on top of the biggest gunpowder barrel in the world, and it threatens to explode any minute. It has been proven that no army can solve the problem. It does not matter how strong or what kind of weapons they have. We can solve the problem."

Representing the Palestinian Authority, Zeinab Habash, Deputy Secretary of Education, concurs. "While we still have so far yet to go, it is making a big difference," she said. "I'm not dreaming. For even during this last Intifada [Palestinian uprising] — and for the first time in my life — I saw many Israeli Jews, young and old, men and women, who risked their own lives to support, help and protect Palestinians.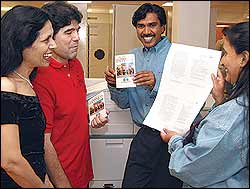 Radio talk show host Daphna Hernandez and husband, Robert, a video producer, are shown fresh-off-the-press samples of The Way to Happiness booklets, which are custom-covered to suit any individual's or organization's intended publics.

"I'm sure that The Way to Happiness can play the role of rehabilitating both peoples. That's why I am very proud that the Ministry's Committee on Improving Education has directed all school counselors to teach the Palestinian children using The Way to Happiness. And I promise — I promise — my support in bringing this wonderful booklet to every man, woman and child, in every land."

Healing Power

Georgetown, Guyana, Mayor Hamilton Green described the introduction to The Way to Happiness in his country as "a breath of fresh air blowing through our land."

"This is one medicine," he said, "that the doctors and the chemists can't put on a label, 'be careful with an overdose.' Your 'Way to Happiness' is an appropriate prescription — let us have it dispensed in generous doses throughout the world."

Gregory Smith of the American Red Cross told of the remarkable success in implementing distribution of The Way to Happiness as part of humanitarian programs in The Philippines.

"The results have been tangible and significant," Smith said. "These programs now use The Way to Happiness in all Philippine Red Cross learning centers. Not only are we seeing mutual respect and a newfound interest in education, but street fighting has become almost non-existent wherever the book and its precepts are used."


Alfred Tsetsane


Hamilton Green


Shuki Mizrachi


| | |
| --- | --- |
| Zelnab Habash | Gregory Smith |
Speaking on behalf of The Way to Happiness's results in far-flung lands are Alfred Tsetsane, Deputy Commissioner of Correctional Services for the Republic of South Africa; Hamilton Green, Mayor of Georgetown, Guyana; Shuki Mizrachi, Israeli publisher and leading distributor of The Way to Happiness in the Holy Land and his counterpart in Palestine, Zeinab Habash, Deputy Secretary of Education, representing the Palestinian Authority; and Gregory Smith, Red Cross of America, who has witnessed the effectiveness of The Way to Happiness programs in the Philippines.
Youth, Family Programs in High Demand
••••••••••••••••••••••••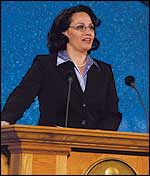 "If a single book can salvage a family or a cell block, then we don't have to imagine what will happen when we place The Way to Happiness in every business, in every community, in every home," says Joni Ginsberg, executive director of The Way to Happiness Foundation International. "Our commitment is to make it happen."

— Joni Ginsburg,
Executive Director
The Way to Happiness Foundation International
••••••••••••••••••••••••
The Way to Happiness Foundation International coordinates grassroots, volunteer-based campaigns to reverse declining moral standards and thereby improve the quality of life in communities large and small. It sponsors morals education programs for children, crime and violence reduction programs and initiatives to create tolerance and respect amongst individuals and groups in conflict. (See "Kids Take on Crime, Violence with No-Nonsense Moral Code,")
These youth and family programs are based on 21 precepts contained in The Way to Happiness, principles that anyone can learn and use to lead a happier, more successful life.
The Foundation also provides large corporations with an opportunity to acquire a reprint license for circulation to employees and customers. The print-on-demand facilities not only allow them to instantly print The Way to Happiness in any of 60 languages, but also to choose from a variety of color covers and designs that can bear a company's logo, business cards or personalized message inscriptions.
For information on The Way to Happiness Foundation International and its programs in the Los Angeles area, contact Joni Ginsberg at info@twth.org or (818) 254-0600. Or visit www.thewaytohappiness.org.