Mexico and U.S. Share Resolve in Ending
Child-Drugging Epidemic
Parents join Mexico's legislative leaders in speaking out against forced drugging of school children; legislative protections being pursued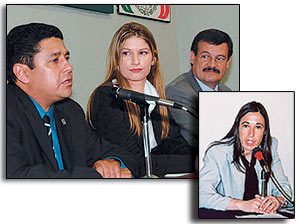 Mexican legislators propose measures to ban mandatory psychiatric drugging of the nation's school children. Leading the charge for government action is Citizens Commission on Human Rights' Latin American public affairs director Dr. Margarita Gonzales.

National legislators in Mexico and concerned parent groups are saying "No!" to drugs that are being habitually forced on the nation's school children.

Members of the Mexican House of Representatives, spurred by actions taken by the LA-based Citizens Commission on Human Rights (CCHR) International over the past year to document the state of psychiatric misdiagnoses of "learning disorders," are calling for an investigation into the excessive use of psychiatric drugs in their school system. Many are saying that this tragedy is fast approaching the scope of the U.S. child-drugging epidemic.

"It is an outrageous situation when you find that amphetamine-like drugs prescribed for questionable 'diagnoses' of 'Attention Deficit Hyperactivity Disorder' [ADHD], are drugs which pack the same level of potency as cocaine, yet they are used on a primary client base constituted of children," says Dr. Margarita Gonzales, a pediatrician who heads the Latin American public affairs department of CCHR International in Hollywood.

Dr. Gonzales points out that sales of these psycho-stimulants have increased more than 800% — from one million pesos in 1993 (US $320,000) to 27 million pesos (US $3 million) in 1998. She and other human rights advocates draw a chilling parallel to the United States, where sales of stimulants for ADHD have increased 665% percent in the last decade and reached $1.3 billion in 2002.



The Universal Declaration of Human Rights

The provisions of the Declaration are contained in two new booklets which are being released in 15 languages: "A Guidebook to Peace Through Human Rights" and "What Are Human Rights?".

The "Guidebook" is designed to help citizens become more familiar with the Universal Declaration of Human Rights and the democratic fundamentals they can apply to their lives. It contains a brief history of the Declaration, a simple explanation of its articles, and the full text of the document itself.

"What are Human Rights?" educates children on the basic provisions of the Declaration and the importance of protecting them, with a simplified presentation of the Declaration for children.

For copies or more information, contact the Foundation for Human Rights
P.O. Box 27306
Los Angeles, CA 90027
or e-mail: YouthHumanRights@aol.com

"How is that allowed to happen?" Her rhetorical question is perhaps answered, at least in part by CCHR's "Psychiatry Exposed" exhibit, which she helped to open in September at the federal House of Representatives in Mexico City and at Monterrey's "Casa de la Cultura." There, Congressman Benjamin Valesquez, Federal Deputy of Cohuila, while co-hosting the opening, stated, "The exhibit explains the historical roots behind society's current acceptance of potentially dangerous drugs as a solution for a child's problems. One stimulant... which is commonly prescribed in Mexico [for ADHD], has been classified by the U.S. Drug Enforcement Administration as potentially addictive and as abusive as morphine, opium and cocaine. Children need education, not mind-numbing psychotropic medication."

Congressman Valesquez is joined by Rep. Enrique Villa Preciado, President of the government's Commission on Attention to Vulnerable Groups, and Federal legislator Arturo de la Garza Tejeirina, in heading up support for a nationwide investigation into the psychiatric child drugging in Mexican schools.

Dr. Gonzales, upon her return from Mexico, told Freedom that Mexican parents, like their American counterparts, have been forced to place their child on a psycho-stimulant as a requisite for their remaining in school. She, Valesquez and others are therefore calling for legislative protections similar to those recently approved by the U.S. House of Representatives in the Child Medication Safety Act of 2003, which passed by a vote of 425 to 1 last May. The American bill is currently with the U.S. Senate for final passage.