Celebrity Centre International Celebrates
Artists "Creating Tomorrow's Reality"
Networking with a purpose — to create a better world for all to live in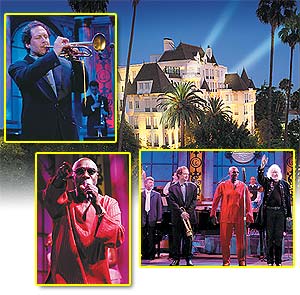 Scientologists active in community and cultural betterment are (top inset, left to right) Grammy award winning composer and musician Mark Isham, who has helped to sponsor community Church activities in India; Oscar and Grammy award-winning entertainer, Isaac Hayes, who has pioneered literacy programs from South LA to southern Africa; and rock and roll legend Edgar Winter, who has supported — and performed for — global environmental efforts.

Under the stars, in the lush formal gardens of a historical Hollywood manor, entertainment industry luminaries mingle with community and civic leaders; TV and movie legends with diplomats from New Zealand and Ghana; judges and police officials with Church members and staff; old friends with new contacts — more than 1,400 guests gathering to commemorate the founding of the first Church of Scientology dedicated to the spiritual advance of the artist and the betterment of society.

This event hosts some of entertainment's brightest stars — Tom Cruise (producer/actor, The Last Samurai); Kelly Preston (The Cat in the Hat); Anne Archer (Oscar nominee, Fatal Attraction); Isaac Hayes (Academy and Grammy Award winner); Catherine Bell (JAG); Erika Christensen (Oscar nominee, Traffic); Jenna Elfman (Dharma & Greg) and her husband, actor Bodhi Elfman; Juliette Lewis (Enough); David Carradine (Kung-Fu and, more recently Kill Bill); Marisol Nichols (Resurrection Blvd); Danny Masterson (That 70's Show); Lynsey Bartilson (Grounded for Life); Nancy Cartwright (the voice of Bart Simpson, The Simpsons); Mark Isham (Grammy Award winner); Gina St. John (E! News Daily); Jennifer Aspen (Vanilla Sky); Sofia Milos (The Sopranos); and hundreds more.

They are joined by honored guests, U.S. Congressman Xavier Becerra (D-CA); LAPD Chief William Bratton and his wife, Riki Klieman; LA City Council members Bernard Parks and Dennis Zine; former President Pro Tem of the California Senate, David Roberti; and his wife June; past NAACP Western Regional Director Ernestine Peters and current Compton Chapter President Fred Shaw; and dozens more.


Actor Tom Cruise (with actresses Catherine Bell [JAG] and Kelly Preston [The Cat in the Hat]), is a founding board member of the Hollywood Education and Literacy Project and was a recipient of the National Mentoring Partnership's "Excellence in Mentoring" award for 2003.

Helping to usher in Celebrity Centre International's 35th year (above), U.S. Rep. Xavier Becerra (left), said, "I applaud your efforts and your undying commitment to protect the rights of those who cannot fight for themselves."

Ernestine Peters (above right), NAACP Image Awards Executive Producer, pledged to bring the joy of learning to every neighborhood and nation through learning programs inspired by L. Ron Hubbard and carried out by the World Literacy Crusade in South LA.
This celebration stands in a class by itself. What differentiates it from the usual Tinseltown celebrity fete is Celebrity Centre's purpose and scope. Both extend far and wide — not simply focused on the success of artist members in achieving professional goals, but on their reach into society at large and the hope they bring to millions of people from Los Angeles to all corners of the globe.

Rev. Susan Watson, President of Celebrity Centre International, sums up the value of the artist to society with a quote from humanitarian and Scientology founder, L. Ron Hubbard: "The artist has an enormous role in the enhancement of today's and the creation of tomorrow's reality."

Hence, the interest and involvement in the accomplishments of the diverse fields represented at this event.

This Hollywood church is more than a spiritual retreat for the internationally famous. It has become a nexus for ideas and resources from many sectors of Los Angeles, while offering a spectrum of effective programs that are aimed squarely at some of our most critical social ills. The common thread of these programs is that each employ practical, workable methods of personal and social betterment developed by L. Ron Hubbard.

Spotlight on Global Illiteracy

Of primary concern, says Rev. Watson, are the widespread challenges in the nation's education system and the magnitude of social action needed to turn the rising illiteracy rates around. The tale is told in these grim facts: students in America are dropping out of school at a rate of 25 to 60 percent. Combine this with more than 90 million American adults functionally illiterate, and "it is long past the time where any of us can ignore it," she said.

"As a society we can no longer afford to depend on the existing 'solutions,' or leave it to our governments to solve these issues, they are concerns that affect all of us," she said.

She said Scientologist celebrities and friends in a wide range of professional fields have responded to this urgency and have been working together for decades to establish literacy programs that use Mr. Hubbard's discoveries to help people overcome any and all barriers to learning:

"Today, through the combined efforts of many individuals, our literacy programs are bringing that help to 54 nations," Rev. Watson explains. "We're working at the grassroots level to provide an actual technology that teaches one how to study and so allows one to be educated in any subject.

"You'll find these programs in the inner cities through mentoring programs operating under the banner of the 'World Literacy Crusade' and in tutoring programs right down the street on Hollywood Boulevard, where supposedly 'lost' and 'hopeless' children and adults have not only learned to read, but are now teaching others to do so as well."

That program, the Hollywood Education and Literacy Project (H.E.L.P.), has grown to 26 centers in 21 cities across four countries. Spearheaded by Celebrity Centre parishioners, H.E.L.P. was established through a partnership with several social agencies that studied the measurable results of Mr. Hubbard's learning methods.