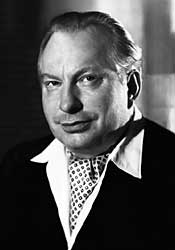 Support a Government Designed and Run for All the People
by L. Ron Hubbard
The Way to Happiness is a common-sense guide to better living. A testimony to the regard in which he held men of goodwill, no matter their faith, L. Ron Hubbard wrote this moral code for use by adults and children of all faiths.
It contains 21 precepts for successful living in a modern world. The following, is one of the precepts (others will be published in future editions of Freedom). For more information about The Way to Happiness, see the bottom of this page.
---
Unscrupulous and evil men and groups can usurp the power of government and use it to their own ends.
Government organized and conducted solely for self-interested individuals and groups gives the society a short life span. This imperils the survival of everyone in the land; it even imperils those who attempt it. History is full of such governmental deaths.
Opposition to such governments usually just brings on more violence.
But one can raise his voice in caution when such abuses are abroad. And one need not actively support such a government; doing nothing illegal, it is yet possible, by simply withdrawing one's cooperation, to bring about an eventual reform. Even as this is being written there are several governments in the world that are failing only because their people express their silent disagreement by simply not cooperating. These governments are at risk; any untimely wind of mischance could blow them over.
On the other hand, where a government is obviously working hard for all its people, rather than for some special interest group or insane dictator, one should support it to the limit.
There is a subject called "government." In schools they mainly teach "civics" which is merely how the current organization is put together. The real subject, "government," goes under various headings: political economy, political philosophy, political power, etc. The whole subject of "government" and how to govern can be quite precise, almost a technical science. If one is interested in having a better government, one that does not cause trouble, one should suggest it be taught at earlier ages in schools; one can also read up on it: it is not a very difficult subject if you look up the big words.
It is, after all, the people and their own opinion leaders who sweat and fight and bleed for their country — a government cannot bleed, it cannot even smile: it is just an idea men have. It is the individual person who is alive — you.
The way to happiness is hard to travel when shadowed with the oppression of tyranny. A benign government, designed and run for all the people, has been known to smooth the way: when such occurs, it deserves support.



L. Ron Hubbard
For a complimentary copy of The Way to Happiness or for more information, write to: The Way to Happiness Foundation International, 201 East Broadway, Glendale CA, 91205, or call (818) 254-0600.
About The Way to Happiness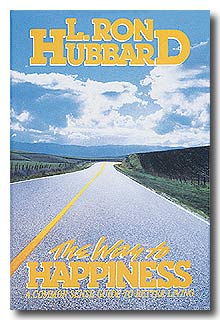 Perhaps the first non-religious moral code based purely on common sense,
The Way to Happiness
by L. Ron Hubbard is a booklet containing 21 precepts, or principles, for improving morals in today's world.
The grassroots demand for this booklet is worldwide, and the precepts are applied by tens of millions around the planet, by men, women and children from every conceivable station in life — from Moscow police officers to convicts serving life sentences in San Quentin, from schoolchildren in Zimbabwe and Beverly Hills to heads of state. It applies to any person's life, anywhere.
It also expresses the moral values embraced by millions of Scientologists.
In The Way to Happiness is a detailed description of each precept, including how it works and how to apply it in life. Rather than just a set of rules or "do's and don'ts," The Way to Happiness provides actual insight and shows how each precept can be put to practical use.
The 21 precepts are as follows:
Take Care of Yourself
Be Temperate
Don't Be Promiscuous
Love and Help Children
Honor and Help Your Parents
Set a Good Example
Seek to Live with the Truth
Do Not Murder
Don't Do Anything Illegal
Support a Government Designed and Run for All the People
Do Not Harm a Person of Good Will
Safeguard and Improve Your Environment
Do Not Steal
Be Worthy of Trust
Fulfill Your Obligations
Be Industrious
Be Competent
Respect the Religious Beliefs of Others
Try Not to Do Things to Others That You Would Not Like Them to Do to You
Try to Treat Others As You Would Want Them to Treat You
Flourish and Prosper
More than 60 million booklets are in circulation worldwide. The Way to Happiness is a tool that can help anybody who wants to lead a better, happier life.
For a copy of The Way to Happiness, write to 201 East Broadway, Glendale, CA 91205, call (818) 254-0600, or e-mail info@twth.org.