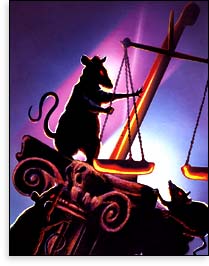 Unstabilized by eradication of standards of right and wrong and personal responsibility, the American jurisprudence system is tilting dangerously toward collapse. The villain? Psychiatrists who have infiltrated the courts, motivated by profit and control.
In this issue of Freedom, we examine our justice system in America.
Many recognize that improvement is critical to the entire survival of the justice system in the eyes of those it is meant to serve. And, in this spirit, some possible reforms are outlined in this issue.
These include more effective oversight procedures to ensure high ethical standards among judges, the elimination of psychiatric "expert" testimony and utilization of provenly workable rehabilitation methods instead of merely locking offenders up, which demonstrably does not work.
The part played by psychiatry in our overloaded and disappointing justice system is key. It is the driving force in destroying the concept of individual responsibility.
Psychiatry has pushed society toward a chaos where no one is responsible for anything. A wife can mutilate a husband, sons can kill their parents, a man can shoot the president — but because psychiatrists claim the perpetrators are themselves "victims," they are "not guilty".
Through the work of Scientologists, government officials and society at large are becoming increasingly aware of the pernicious influence of psychiatry.
It is also past time to remove psychiatrists from our rehabilitation systems, where they have only made matters worse, and replace their methods with those that are provenly workable, such as the Narconon and Criminon programs, described in this edition.
Click here for the
Table of Contents
Freedom Magazine, a Scientology Publication