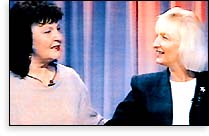 arren, 34, of Long Beach, California, was in and out of prison for more than 20 years for buying, selling and using drugs.
In 1994, while incarcerated yet again, he was introduced to the Criminon program by another inmate and enrolled on The Way to Happiness Course.
Darren is now out of prison, happy, stable and productive. His mother, Sharlene, recently appeared on television to publicly thank those who had helped Darren through the program. "They gave me my son back," she said. "He is acting like his old self, before drugs, before dealing drugs. The Way to Happiness gave that to him."