| | | |
| --- | --- | --- |
| | The Cult Awareness Network has been revived by a new board of directors, headed by Rev. Dr. George Robertson (above), vice president of Maryland Bible College and a Baptist minister. Its purpose: to educate the public on religious rights, freedoms and responsibilities. | |
By Warren Pagliaro
Once a clearinghouse
for anti-religious outlaws, CAN
is under new leadership—and back
on its stated mission to educate
and inform about religion.


or Denise, a volunteer who works the Cult Awareness Network (CAN) hotline, it has been a long day. "I've had calls from newspapers, radio stations, television reporters, students and parents," she explains, all of them requesting information—and help.
"A couple of days ago, a mother called in, very concerned about her daughter, a grown woman who had joined a Christian group," she says. "We talked to her and gave her the information we had on the group, as well as the name of a religious expert in her area and people within the group she could contact for more data.
"She just called to let us know that she had spoken to our referrals and spoken to her daughter and that everything was OK—she knew her daughter was safe and that she would stay in touch, which was what she really wanted more than anything," Denise adds.
At CAN, stories are becoming increasingly common as people call in growing numbers to get factual, non-biased information about a litany of religions and groups across America—the most extensive store of data that has ever been amassed.
But it wasn't always this way.
Wayward Leadership Leads to Demise
CAN is now under new management, led by a board of directors which represents numerous faiths and which works with religions and groups of all denominations to educate the general public regarding religious rights, freedoms and responsibilities. This mission has been CAN's stated purpose since its day one of its operation.
But by day two, under CAN's old leadership, that mission statement had been rendered meaningless. It was the beginning of more than two decades of intolerance and anti-religious violence.
From its former offices in Barrington, Illinois, CAN became notorious for waging a propaganda war against Mormons, Seventh-day Adventists, Catholics, Orthodox Jews and a host of other religious groups—with particular and peculiar emphasis on fundamentalist Christians.
The group began in 1974 as the Citizens Freedom Foundation (CFF), spearheaded by Ted Patrick, widely known as the "original deprogrammer." CFF provided the front Patrick needed for his lucrative business of violent assault. In his autobiography, he admitted that deprogramming "may be said to involve kidnapping at the very least, quite often assault and battery, almost invariably conspiracy to commit a crime and illegal restraint." Case histories and court records show that deprogammings have also included rape of both male and female victims.
Such loathsome acts were but the tip of the iceberg. Later events would find CAN's former leadership "morally, if not criminally, responsible" for the April 19, 1993 tragedy at Waco, according to religious scholar J. Gordon Melton, director of the Institute for the Study of American Religion and professor of religion at the University of California at Santa Barbara.
It was CAN's former leaders and one of its highest-ranking deprogrammers, convicted felon Rick Ross, who provided the information which spurred the deadly raid on the Branch Davidian compound at Mount Carmel in Waco, Texas. Ross and other former CAN officials worked with apostate former Davidians to convince law enforcement that "lethal force" was justified at Mount Carmel. The 86 lives lost at Waco speak volumes of the involvement of CAN's past leadership.
So do the legion of criminal acts, charges and convictions surrounding the old CAN and its members. Many of its officers, members and associates were charged with or convicted of criminal acts, including its former president, Michael Rokos, and former security adviser Galen Kelly, a felon found guilty of criminal charges associated with kidnapping for the purpose of deprogramming.
When it comes to examining an organization, the words of its top officials are often instructive. And the views of the last executive director of the old CAN, Cynthia Kisser, shed much light on the agenda of CAN's former leaders and explain their fascination with Christians. "If [Jesus Christ] were alive now," she told the Cleveland Plain Dealer, "we'd take an interest in him because of the great controversy surrounding his fringe activities. ... We'd try to see if there was abuse, unethical behavior or deceptive practices. And I'd send whatever we could find to reporters."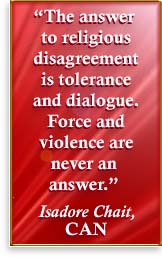 Old Leadership Self-Destructs
The support of and involvement in lawless conduct of CAN's old leadership led to the $4.875-million damages verdict against the group and Rick Ross, in the case brought by a Pentecostal Christian, Jason Scott. Scott was brutalized, handcuffed, silenced with duct tape across his mouth, abducted and forcibly held against his will for days in a failed attempt to destroy his beliefs.
The jury in the Scott case found that the conduct of some of the defendants was "so outrageous in character and so extreme in degree as to go beyond all possible bounds of decency ... atrocious and utterly intolerable in a civilized community."
CAN's former leaders tried to have the verdict set aside in the case, claiming it was "unreasonable." But U.S. District Judge John Coughenour denied the motion, stating, "The court notes each of the defendants' seeming incapability of appreciating the maliciousness of their conduct towards Mr. Scott. ... Thus, the large award given by the jury against both CAN and Mr. Ross seems reasonably necessary to enforce the jury's determination on the oppressiveness of the defendants' actions and deter similar conduct in the future."
The group then filed for bankruptcy, hoping to continue its operations while reorganizing under Chapter 11. On the verge of being thrown out of bankruptcy court for proposing specious reorganization plans, CAN's former leaders chose to convert to Chapter 7 bankruptcy in June 1996 and a trustee was appointed to supervise CAN's liquidation. Its staff were let go, and its offices closed shut.
J. Gordon Melton said, "The Scott case virtually brought deprogramming to a halt in this country. What this judgment did was cut the communication lines that allowed deprogramming to go forward."
On the same day that the old CAN went into liquidation, four more deprogrammers joined the ranks of the convicted—for the failed deprogramming of a member of a Christian church in Idaho.
A New Era
Following the demise of CAN's old leadership, CAN was revived by a new board, led by Rev. Dr. George Robertson, vice president of the Maryland Bible College and a Baptist minister. Rev. Robertson has for years been a foe of what he called the old CAN's "anti-religious" work, particularly that directed against fundamentalist believers. He said that other board members included representatives of the New Age and Buddhist communities and the Church of Scientology.
CAN President Isadore Chait provided a copy of CAN's mission statement, which, in addition to CAN's original educational purpose, provides that CAN will "work with religions and groups of all faiths to encourage tolerance, understanding and communication among those with diverse religious viewpoints." It also says that "CAN does not judge doctrine or beliefs. Its services and information are available to all persons without regard to race, religion, circumstance or national origin."
"CAN believes that people should be able to make their own decisions about religious groups and cults, and that they need factual information so that they can make informed decisions," says Chait. "We believe strongly in the First Amendment, and that religious choice is an individual right and freedom.
"The answer to religious disagreement is tolerance and dialogue. Force and violence are never an answer."
He also explained the sharp differences in practice between today's CAN and the CAN of old. "Every time a group got more popular CAN would leech off that fame, gaining a name for themselves," he said. "The earlier CAN wasn't doing anything about the groups that wound up having the disasters or tragedies. The earlier CAN never stopped anything from happening. They only made matters worse, such as Waco, which was the result of the ultimate in incited 'cult' hysteria.
"They created hysteria, violence and death through their actions. That is why actual, qualified religious experts must be consulted and whose advice should be relied upon in any situation involving cults."
Under its new management, CAN has taken on numerous functions which help it serve its purpose; there is the hotline, a research and referral service, a web page under construction and a series of publications being produced about religious issues for use by the general public. There are also plans for both regional and national conferences.
Already the interest has been overwhelming. Several thousand calls have come in to CAN to date, and CAN has provided information or interviews to numerous national and local media, including the Los Angeles Times, USA Today and the Washington Times. Affiliated religious experts, including Dr. J. Gordon Melton, Dr. James Lewis, Dr. Newton Maloney and Dr. Anson Shupe, have been consulted extensively by both media and educational institutions.
But the true challenge for CAN won't be to deal with the avalanche of requests for information or sifting through the abundance of data which continues to pour in. It will be—for the first time in CAN's history—to truly fulfill its mission and "encourage tolerance, understanding and communication among those with diverse religious beliefs." "That is really where the rubber meets the road," says Chait. "We have already seen too much violence flow from intolerance and ignorance.
"The best cure I know of for intolerance is education. And we know we have a lot of work to do."
For more information, contact CAN at inform@cultawarenessnetwork.org.
Telephone: (800) 556-3055.
Snail mail: 117 S. Cook St., Suite 354, Barrington, IL. 60010.