If people can get worse (and you know they do), then it follows they can get better, too.
And with Scientology technology, that's precisely what happens. Millions of people know Scientology improves personality dramatically because they've experienced it personally.
Know your potential – who you are, where you're from and where you're going.
The book, Scientology: A New Slant on Life gives you the whole story. Written by world-renowned author, L. Ron Hubbard, this book will open your eyes.
And you are going to like what you see.
Get a new slant on life!
Scientology
Know yourself. Know life.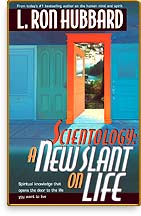 Pick up a copy wherever books are sold or
call 1-800-334-LIFE.
Or write to:
Bridge Publications,
4751 Fountain Ave.,
Los Angeles, CA 90029