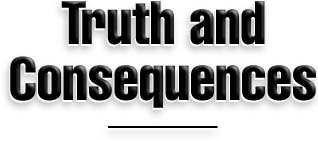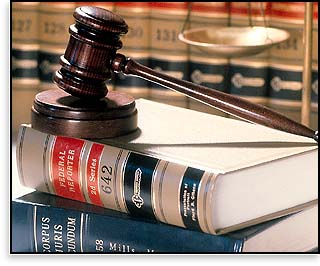 Multimillion-Dollar Verdict
Sends a Message of Greater
Accountability
By William Shea


n October 1993, Money Management Analytical Research Group Inc. (MMAR), based in Houston, was an up-and-coming bond brokerage house. Its principals, Paul Brown and Cory Miner, steered the firm through the relatively uncharted waters of high-risk securities to establish a niche for MMAR in a fiercely competitive field.
But October 21 of that year, The Wall Street Journal published an article by reporter Laura Jereski that depicted MMAR not as an innovative securities firm but as a freewheeling and sometimes fraudulent outfit, its principals living extravagantly and playing fast and loose with clients' money, apparently oblivious to official investigations and looming lawsuits.
In painting her picture, Jereski alleged that Brown, Miner and two associates blew $8,000 entertaining Japanese brokers in a topless bar, charged that the firm ran up $2 million in limousine bills in one year, criticized Brown's educational background and sniped at both principals' previous business experience. MMAR's initials, Jereski quipped, stood for "Make Money and Run." It would be safe to say that virtually any potential investor who read the published feature would decide to steer clear of MMAR.
Thus, in an industry grounded on confidence, where multimillion-dollar deals can fall through on rumor alone, the Journal story shook MMAR to its foundations. With clients frightened away, MMAR went out of business within a month.
Jereski closed her article on MMAR by predicting, "More lawsuits are expected."
Those words proved prophetic when the Journal's publisher, Dow Jones & Company, and Jereski herself were in turn named in a libel suit filed on October 26, 1994, by MMAR's principals.
On March 20, 1997, after a two-week trial, it was the Journal and Jereski that were shaken as a federal jury in Texas awarded the plaintiffs $22.7 million in actual damages and $200 million in punitive damages—the largest libel verdict in history.
Although the punitive damages were slashed two months later when U.S. District Judge Ewing Werlein Jr. issued the final judgment, the award still sent a message of accountability and served as a reminder of the truism that freedom of speech, as one constitutional law professor put it, "does not mean freedom to lie or harm."
In his 24-page memorandum and order, filed on May 23, Judge Werlein let stand the $22.7 million in compensatory damages assessed against Dow Jones and Jereski, along with $20,000 in punitive damages against Jereski. With interest as ordered by the judge, the total award amounts to nearly $30 million.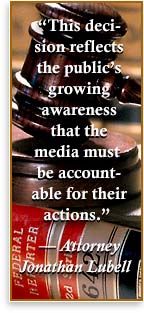 The Story Disintegrates
During the trial, the seven-member jury examined eight specific statements published by the Journal about MMAR and its principals, finding five of them to be false and defamatory—determining also that the newspaper should have known they were untrue.
One was that the National Association of Securities Dealers had filed notice of a pending action against MMAR and Paul Brown based on a complaint against the company by the Louisiana state employees pension fund. It was found at trial that while a complaint had been filed against the firm, it did not involve the pension fund.
Another statement found to be libelous was that MMAR kept its own capital investment in the firm so minimal that it needed a client with a large portfolio to be able to trade. The article implied that MMAR would put its clients' cash at risk, but not its own. The plaintiffs successfully argued that it aimed to maintain an impartial position in the bonds that its clients were advised to buy.
Yet another was that MMAR hid portfolio losses by mispricing certain securities. MMAR claimed it had done the best job it could in valuing the securities and the jury again agreed.
The Journal's story began to disintegrate when sources denied making crucial statements attributed to them.
The charge that MMAR had squandered $2 million in limousine costs was disputed by the Journal's own source, Raphael Grinburg, a former MMAR employee, who said the bills had actually been incurred by a different firm that was subsequently purchased by MMAR.
Likewise, William Robinson, an executive at Raymond James, a Saint Petersburg, Florida, brokerage house that dealt with MMAR, denied that he had said MMAR's sales personnel exceeded his guidelines on commissions.
Largely because Grinburg and Robinson denied the statements attributed to them in the article, the jury found the Journal liable on two additional causes of action that centered around their statements.

"That Didn't Help Us at All"
Another Journal source, Paul Troop, a pension consultant, disputed a comment attributed to him that the Louisiana state pension fund's board had become worried about the securities and had been forced to start selling them.
As if three discredited sources weren't enough, a director of the Louisiana State Employees Retirement System stated under oath that, contrary to the article, MMAR had not been responsible for losses at the fund in the early 1990s, and that the pension fund had actually made money from its investments with MMAR.
Attorney David Donaldson Jr., who defended Dow Jones in the litigation, said, "A good source for a story can be a defense, and we did make that argument. But the plaintiff would then ask, 'Did you tell her in words or substance the following?' and he would say no, and that didn't help us at all."
"What Journal did was wrong," said Mark Harwell, attorney for MMAR. "[The reporter] set out to do a hatchet job. There should have been some editorial control."
Judge Werlein's May 23 memorandum and order noted, "[T]he court concludes that there was substantial evidence from which a reasonable juror might find with convincing clarity that Ms. Jereski acted with actual malice."
Harwell explained that several sources weren't asked questions relevant to the claimed statements and, if they had been asked the questions, would not have given the responses that were attributed to them.
He told Freedom, "If you just had one person that you interviewed who denied making the statement and said it was false, that's one thing. But when you have it over and over and over, that's an indication that the reporter wasn't careful to listen to what was being said. And really, to the contrary, we believe she essentially discarded everything that ran contrary to her preconceived notion of what this story should read like and grasped at straws if they seemed to support her preconceived notion."
"Reasonable, Maybe Even Inescapable"
From the outset of the controversy, and even after the verdict, the Journal denied it had done anything wrong and claimed it intended to see the verdict set aside. Others see it otherwise.
"A reading of the original article," says Iver Peterson in The New York Times, "and of Judge Ewing Werlein Jr.'s charge to the jury, opens a window on how a ruling that seemed so outsized to people far from the case might seem reasonable, maybe even inescapable, to the jury."
While being named in a libel suit is one of a reporter's nightmares, losing one is far worse. And in this case, as mentioned the verdict and final judgment included $20,000 in punitive damages, assessed against reporter Laura Jereski personally.
But libel expert and attorney Jonathan Lubell notes that to focus on the damages award and what it "says" is to miss the point. "This decision," he said, "reflects the public's growing awareness that the media must be accountable for its actions. Nearly every other powerful institution in this country has some accountability for its actions and takes responsibility when they do wrong by the public. The major media have been the least accountable and this is one of many signals which tell us that most Americans do not want it that way."

The Damage Has Spread
At first glance, the MMAR case looks like an extreme aberration in the media world. In truth, it is part of a growing number of cases which show an increasing intolerance for shoddy or dishonest reporting among the news-consuming public.
Perhaps best-known was the Food Lion case, in which a North Carolina jury found ABC News' "PrimeTime Live" liable for $5.5 million in damages for its investigation of the supermarket chain. Evidence showed that reporters had turned in fraudulent resumes to obtain their jobs at Food Lion. There was also the case of Dickerson vs. Sally Jessy Raphael in Michigan, involving illegal and unwanted video and audio taping of a private conversation between a mother and two of her children. The court found in favor of the mother and ordered that a hearing be held on damages.
Americans' trust in their news media has steadily dwindled in recent years. A survey released in March 1997 by the Freedom Forum revealed that even though 80 percent felt that the media played a crucial role in a free society, only 31 percent trusted newspaper reporters, while still fewer, a mere 14 percent, trusted radio talk-show hosts.
In a similar vein, a recent Gallup poll disclosed that just 17 percent of the American people believe newspaper reporters' honesty and ethical standards are "high" or "very high." And a survey by the Pew Center for the People and the Press found that 56 percent of those polled say that news organizations often get the story wrong, while only 37 percent believe they get the facts straight. The Pew Center's survey also showed sharp drops in the number of Americans watching television network news (from 60 to 41 percent) and reading daily newspapers (from 66 to 56 percent) over the past 12 years.
These numbers are more than sobering—they are alarming and, in the words of veteran newsman Bernard Kalb, demonstrate that Americans are "fed up with the media and paying less attention to the news."
One of the jurors in the MMAR case, Mike Johnson, provided a simple explanation for how the panel reached its decision. "We found they lied on purpose," he said. "We wanted to punish them for betraying a trust."
Attorney Mark Harwell said, "Something was very, very seriously wrong here." Indeed the verdict serves as a wake-up call for journalists everywhere.
In the introduction to his excellent book, Breaking the News, author and editor James Fallows wrote, "Tremendous potential power comes with being a reporter. You have the negative power to say things about other people, in public, to which they can never really respond in kind. You have the positive power to expand other people's understanding of reality by bringing new parts of the world to their notice. Taking this power seriously means taking your calling seriously, which in turn means recognizing the impact of the tool or weapon in your hands.
"Like teachers, soldiers, nurses, or parents, journalists perform a job whose full value is not represented in their pay. When they do their jobs well, many people benefit. When they do their jobs poorly, when they are irresponsible about their power, the damage spreads further than they can see."
As Fallows observed, "The institution of journalism is not doing its job well now. It is irresponsible with its power. The damage has spread to the public life Americans all share. The damage can be corrected, but not until journalism comes to terms with what it has lost."