Tampa Bay Times' Tracey McManus Ignores Evidence in Order to Publish a Biased Story
The Church of Scientology provided over 20 pages of evidence to the Tampa Bay Times undermining their recent article in advance of its publication.
This evidence included the fact that the lawyer highlighted in Tracey McManus' story had his license to practice law suspended for the very same kind of vexatious litigation he just filed again.
The Tampa Bay Times received this evidence and chose to ignore all of it. We here present the letter sent to the Times so that you can review for yourself the evidence they chose to entirely ignore.
Any legitimate journalist or newspaper would find this behavior to be unconscionable and would consider it journalistic malpractice of the highest order.
Here are the facts the Tampa Bay Times ignored:

June 26, 2023
Tracey McManus
Tampa Bay Times
RE: YOUR REQUEST FOR COMMENT
Dear Tracey,
I knew nothing of the lawsuit you were inquiring about until I received your email. Now that I read the "complaint," I can tell you:
THIS IS SIMPLY THE MOST RECENT IN A SERIES OF BASELESS LAWSUITS CLEARLY ORCHESTRATED BY THE SAME SMALL GROUP OF ANTI-SCIENTOLOGISTS BENT ON HARASSING THE CHURCH. AS WITH EACH PREVIOUS ATTEMPTED SHAKEDOWN, THE CHURCH WILL ULTIMATELY PREVAIL.
---
With your inquiry, you have proven yet again that you are not a journalist, but are a PR organ for your go-to clique of anti-Scientologists. This lawsuit has nothing to do with Clearwater, or Florida for that matter, yet you send me an inquiry on a Sunday afternoon with a Monday, noon, deadline. We have been through this before and you know it. Your pattern is always the same:
A frivolous complaint is filed as an attempted shakedown making sensational, unfounded and false allegations to inflame anti-Scientology bias.
Biased media (you) receive advance notice of the filing and then print one-sided hatchet-job articles against the Church, implying the allegations are true. Your "inquiries" – which come with urgent deadlines – are typically the first we hear of the suit.
We win.
You ignore or attempt to downplay that win because you have a personal and deeply held animosity towards Scientology that renders you biased and unfit to perform your job.
This is exactly what happened with your "reporting" regarding the Garcias and Zyanya Marsh. Don't do it again.
---
Regarding this particular complaint, Graham Berry, the attorney who filed the lawsuit, is not an independent "officer of the court."
Over the years, Berry has filed the most outrageous lawsuits against the Church resulting in discipline and suspension from the practice of law by the California Bar. As just a few examples:
In one instance, the complaint Berry filed listed 50 defendants, including then-President Bill Clinton and Secretary of State Madeleine Albright, as well as Church entities and principals. The judge called the case "a rambling tale of irrelevancy," found the case had no factual or legal support and dismissed the suit.
He has been ordered to pay monetary sanctions on nine separate occasions.
Berry's misconduct in filing frivolous complaints against the Church resulted in him being suspended by the California Bar. Moreover, Berry was specifically ruled to be a "vexatious litigant," with the judge stating:
"With all the due respect sir, I have to sadly state that if there is such a thing on God's green earth as a vexatious litigant, you, sir, sadly, are it."
[ATTACHMENTS 1-3]
To this day, Berry is on the California Judicial Council's list of vexatious litigants. You can find the list at www.courts.ca.gov/documents/vexlit.pdf
Considering Berry's documented history of frivolous lawsuits against the Church, AND HIS CURRENT STATUS AS A VEXATIOUS LITIGANT do not "report" or imply anything he says as "fact."
I repeat: Berry's status as a VEXATIOUS LITIGANT must be included in your reporting, should you write a story. It is not an "incidental" matter since a judicial decision was issued specifically concerning his frivolous lawsuits against the Church.
You will be hearing from counsel.
Best,
Ben
cc       Mark Katches, Editor Tampa Bay Times
ATTACHMENT 1
Graham E. Berry, California State Bar Suspension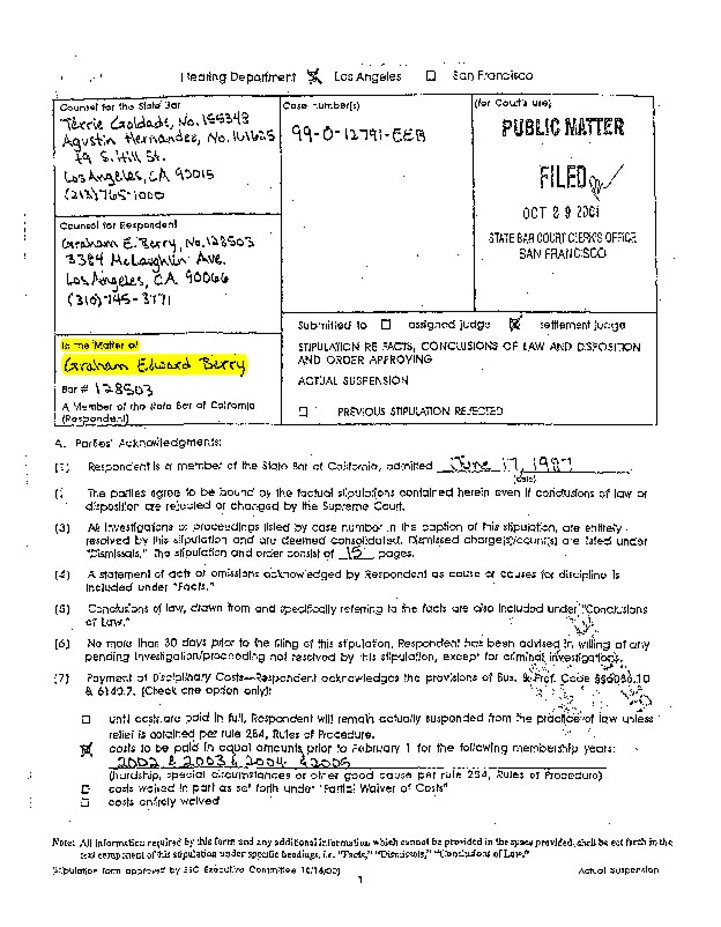 ATTACHMENT 2
Order Finding Graham E. Berry To Be a Vexatious Litigant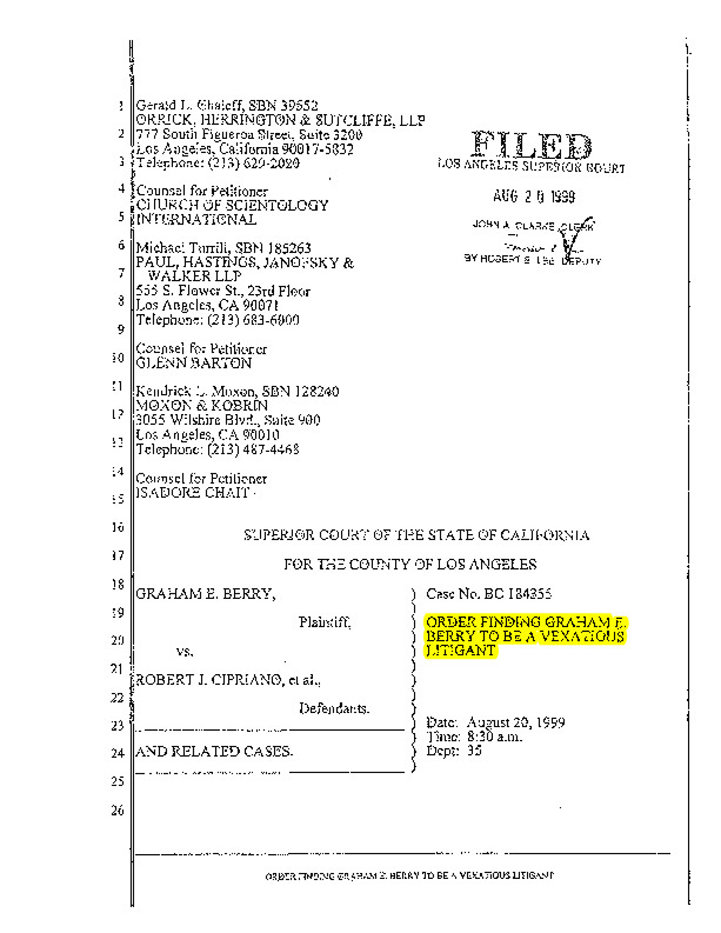 ATTACHMENT 3
Judge's Ruling on Graham E. Berry