PAUL BUCCIERI,
President, A&E Studios and A&E Networks Portfolio Group
Bigotry and hate don't have to be expressed in words. As Paul Buccieri, president of A&E Studios has shown, there are other ways.
Beginning four months before the start of Leah Remini Aftermath season one, in July 2016, a representative for the Church of Scientology International wrote to Buccieri, then president of A&E Television Networks (AETN), requesting a meeting.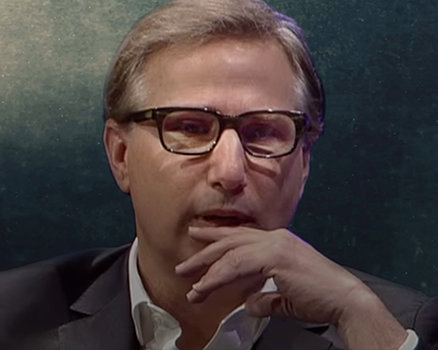 "There is considerable reason for our concern that 'reality' is being deliberately distorted with the aid of the producers hired by the network," wrote Church representative Karin Pouw. "As you know, Leah Remini is an embittered, outspoken anti-Scientologist. No program that she is principally involved in can present an objective view of the Church."
The request outlined the Church's attempts to seek a meeting with A&E since March of that year, met with not so much as an answer nor was there a means of having "a meaningful conversation about what we perceive to be potentially insensitive, anti-religious and defamatory content about which A&E should be concerned. We have requested an open dialogue to find out what A&E is doing, for the mutual benefit of your company and our Church and its parishioners."
The Church had already met or had correspondence with the production companies involved, which were preparing thoroughly one-sided programming with provably discreditable sources and demonstrably false stories.
The request for open dialogue had taken a circuitous route to this juncture, after A&E Executive Vice President and General Counsel Henry Hoberman referred the Church to outside counsel Kelli Sager, who, in turn, declined to meet but referred the Church back to the production companies.
The letter also outlined the mutually productive relationship in the past wherein the Church provided A&E with exclusive and voluminous information and interviews.
"The Church has been more than forthcoming in providing valuable information in the past and the Church stands ready to provide accurate information now," Pouw wrote. "Shouldn't you be willing to converse with the Church? Or is A&E dead set on avoiding the truth to such an extent that the network is unwilling to meet to hear the truth?"
After continuing to get no response, Pouw called Buccieri's office in October, in an attempt to establish dialogue and request a meeting, and met the same stone wall.
Letters to Buccieri also provided factual information proving persons to be featured on the upcoming Remini Aftermath show to be liars and entirely discredited. These sources included Marc and Claire Headley, whose story had been fully examined and thrown out by not one, but two courts, with an order to pay the Church as restitution.
The sources also included Tom Devocht, who had wantonly and admittedly mismanaged, overspent and wasted $10 million in Church funds and who had a documented history of violence.
The sources further included Amy Scobee, who had perpetrated five extramarital affairs and was summarily dismissed from Church staff when, as a minister, she had sex with a parishioner while she was counseling him.
And on it went. With no response.
Perhaps Mr. Buccieri was too consumed in damage control on revelations of paid sources, scripted dialogue and fabricated scenes on such programming as 60 Days In or Generation KKK—the latter having to be cancelled in December 2016 on the cusp of broadcast.
Such revelations, as made clear to A&E executives, also applied in full to Remini's Aftermath program—which was further corroborated in a whistleblower account.
As proven in June 2017, neither A&E, nor the production company, nor Leah Remini vet any of the sources on this show, giving them an open platform for their bigotry and hate.
When the Church informed Buccieri that this A&E program caused an unprecedented number of threats, vandalism and violence, he did not respond. To date, there have been more than 500 documented incidents including over 200 threats of bomb attacks, assassination of the religion's leader and members, a drive-by shooting, an act of arson, and vandalism of church property.
Paul Buccieri has apparently been too busy overseeing such culturally relevant programs as Storage Wars, Parking Wars and Dog the Bounty Hunter to reply to these critical matters.