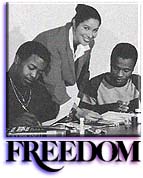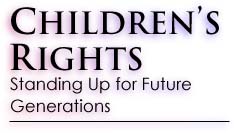 hildren, who are our future, need and deserve special protection and support. One of the fundamental rights of children should be the right to grow up drug-free. Too many examples exist where drugs have destroyed children's lives and their futures. In numerous investigative
features
, FREEDOM has shown how the broad-scale drugging of America's schoolchildren has created a wave of brain damage, violence, crime and death.
FREEDOM has published many articles on the addictive psychiatric drug Ritalin, exposing its harmful effects and the fact that alternatives to drugging exist, such as changes in diet. A substantial reduction in the consumption of this dangerous drug, from over 2,400 kilograms per year to less than 1,800 kilograms, followed FREEDOM's coverage and a simultaneous campaign by the Citizens Commission on Human Rights.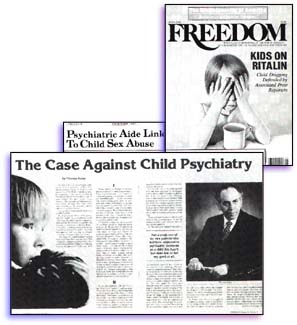 Children need and deserve special protection and support, including the privilege to grow up drug-free. Through numerous investigative features, FREEDOM has shown how broad-scale psychiatric drugging has destroyed the future of many kids and created a wave of brain damage, violence, crime and death. FREEDOM has also provided a forum for those who are standing up for the rights of children, such as Dr. Thomas Szasz.
Acknowledging the effectiveness of such anti-drug endeavors in The Nation in 1992, Alexander Cockburn noted, "The Scientologists have long been hostile to 'psychiatric drugs' like Prozac or Ritalin... against which the church has carried out a prolonged and admirable campaign."
FREEDOM's ongoing campaign to educate children and their parents on the dangers of drugs has met with great success. A steady stream of articles has been published on this subject, with many of them reprinted in other publications. Coverage has included profiles of celebrities and others who speak out on the dangers of drug use and who serve as drug-free role models for success.
Among those featured with in-depth articles have been actor Jeff Pomerantz, founder of "Hollywood Says No to Drugs," actress Kirstie Alley, star of "Cheers" and numerous films, musician Nicky Hopkins and others.
The Drug-Free Marshals program is one of the effective anti-drug efforts supported by FREEDOM in its work to bring the message home to children that a drug-free life is a better, happier and more successful one. Originated in Los Angeles as part of the Church of Scientology International's Lead the Way to a Drug-Free USA campaign, the Drug-Free Marshals concept has spread to the farthest corners of the globe. Under the program, youth of all races and religions are recognized for being drug-free and are given a role in creating better communities.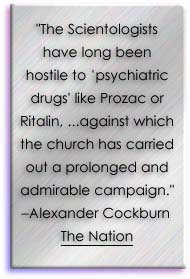 Through the years, FREEDOM has also supported and given a forum to those who are standing up for the rights of children. These have included Dr. Thomas Szasz, who published "The Case Against Child Psychiatry" in FREEDOM in 1987. "Not a single one of my own patients who had been subjected to psychiatric treatment as a child felt that it had done him or her any good at all," he noted.
He concluded, "Because the victims of child psychiatry are children who can protect themselves against psychiatry even less well than adults, they need more stringent protections from it than adults. Nothing short of the abolition of child psychiatry can achieve this end."
They have also included Wisconsin State Representative Polly Williams, who sent shock waves through the nation when she pushed through an "education choice" bill in her state, giving parents a choice as to what school their children attend. "Most people would complain angrily if they bought a car and it was a lemon," she told FREEDOM. "They would forcefully demand that the car be repaired or that they got a refund. Yet, when the schools don't educate our children, we just accept it and do nothing. We take lemons from the public school system when we would never do that with any other product we pay for."
FREEDOM digs in and probes reports of abuses against children. For example, in 1985 FREEDOM investigated and exposed alleged child sexual abuse in connection with the Neuropsychiatric Institute at the University of California at Los Angeles. In 1989, FREEDOM exposed sexual abuse at the Western New York Children's Psychiatric Center in West Seneca, New York, where dozens of documented incidents of assault, rape and sodomy took place. These and other detailed exposés helped to raise the awareness of legislators and the general public of child abuse in such institutions, leading to new laws in some states which mandate background checks of potential employees so offenders with criminal backgrounds are weeded out.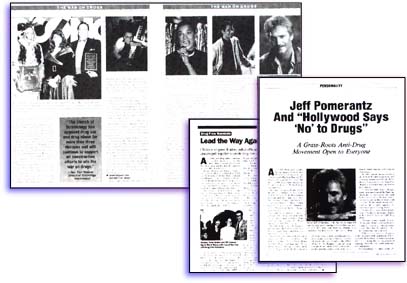 Coverage has included support of effective anti-drug campaigns and in-depth profiles of celebrities who speak out on the dangers of drug use and serve as drug-free role models for success.