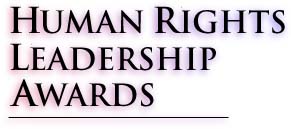 t is vital that the good works of individuals in government, the news media and other areas of society in support of human rights are appropriately recognized.
For this reason, the Human Rights Leadership Awards were created. They have been presented to those in the forefront of efforts to advance the cause of freedom of expression, freedom of information, government reform, mental health reform, children's rights, religious freedom and social justice.
Among the first winners of this award were two Colorado lawmakers whose work resulted in landmark legislation in their state providing strong criminal penalties for psychiatrists and psychologists who rape or assault their patients. At a ceremony held to honor these individuals for their accomplishments, one legislator reported that he had received responses to the FREEDOM feature from people in other states wanting to pass similar legislation. Since then, other states have passed laws criminalizing sexual involvement of psychiatrists with patients, and such tough legislation has become the trend.
Through awards to individuals who are making a difference in society, and who are improving conditions, positive contributions to society and to the welfare of mankind are reinforced.
Over the last 25 years, FREEDOM has established itself as the nation's foremost voice in investigative reporting in support of human rights. In the years ahead, you can continue to look to FREEDOM for the best in investigative reporting in support of human rights, and for information on those individuals working to improve conditions for their fellow man.
It is FREEDOM's intention—and the evident trend—that the voices speaking out on behalf of human rights will continue to become more and more powerful in the years ahead.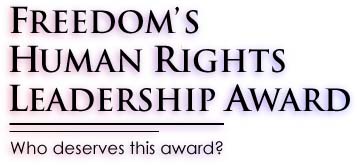 You can contribute to choosing FREEDOM's
Human Rights Leadership Awards winners
Send full details concerning your nominee to FREEDOM. Include in your proposal:
1. Name, address and phone number of the individual;
2. The person's current job/position, as well as past positions held;
3. Specifically what the individual has done that qualifies him/her for FREEDOM's Human Rights Leadership Award;
4. Any information demonstrating that the person being nominated is honest and upstanding; and
5. Attach any substantiating documentation concerning the person's contributions to human rights.
Send your proposal to:

FREEDOM Magazine
Human Rights Leadership Awards
6331 Hollywood Blvd., Suite 1200
Los Angeles, CA 90028