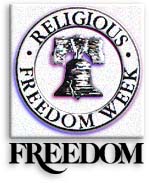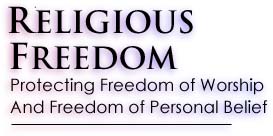 n the many countries around the world where FREEDOM is published, the importance of religious liberty is a consistent theme in FREEDOM's coverage. This has spanned a broad range of subjects, from exposés of those attacking religious freedom to support of efforts to promote, restore and rekindle it—as, for example, by contributing to the passage of congressional resolutions establishing a national Religious Freedom Week.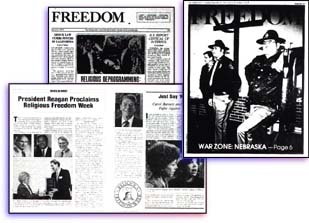 Religious freedom coverage spans a broad range of topics.
In the 1980s, FREEDOM published a series of articles condemning government interference with religion, focusing on Baptist churches in Nebraska, including one which had been padlocked by state police, with its pastor and a number of parents jailed because the church's school had been operating without state-certified teachers. In 1984, the battle culminated with the state government changing the laws so that church-run schools throughout the state could operate without government interference.
Numerous exposés by FREEDOM of the brutal practice of "deprogramming" over the years intensified recently with a view to outlawing this practice and in ending the criminal activities of members of the so-called Cult Awareness Network (CAN). In "deprogramming," food and sleep are often withheld from the victim at the whim of the deprogrammer, while the victim may also be ridiculed, restrained, beaten and even raped.
The May 27, 1993, kidnapping conviction of deprogrammer Galen Kelly in Virginia and the recent charging of deprogrammer Rick Ross in Washington State—both longtime associates of CAN—are evidence that the tide of public and judicial opinion has turned against those who engage in this practice, which could more accurately be described as torture.
Through the work of FREEDOM, the Church of Scientology and others concerned about religious freedom, deprogrammers are now finding that the practice of their insidious craft can earn them long prison sentences. FREEDOM will continue to investigate and expose their abusive and criminal acts until they cease.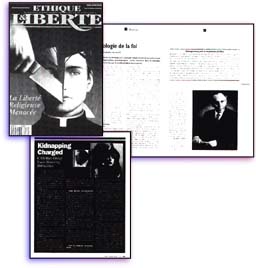 Exposés of the brutal practice of "deprogramming" have been intensified with a view to outlawing this practice.