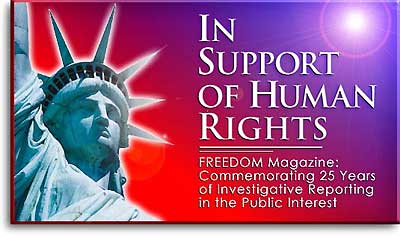 IN SUPPORT OF HUMAN RIGHTS
Freedom Magazine: Commemorating 25 Years of Investigative Reporting in the Public Interest
Restoring Freedom - The Role of Investigative Reporting

Freedom Magazine Published by the Church of Scientology since 1968
"The only recourse of a public beset by governmental malfeasance or corruption is an alert, investigative news media. This has been proven in America from the pamphlets of Thomas Paine to the revelations of Woodward and Bernstein.
"Investigative reporting today faces challenges unknown in times past. It's no longer enough to catch the local councilman on the take or the large polluting plant. The investigative reporter of today must take the world view of the multinational business and banking systems.
"Today's reporter must transcend the media's daily dose of sound bites info bits and assorted data. He or she must view this daily barrage of information as pieces of a mosaic. Armed with background in a variety of disciplines – sociology, science, history, business, law – the true investigative reporter sees the media's hodgepodge reporting as pieces of a larger puzzle....
"It is a creed of a free people and one we should all embrace."
Church of Scientology's Freedom Magazine Continued...