Downtown Clearwater: A Season of Winter Festivities

A growing number of events throughout the winter season in Clearwater provide activities for all ages...

...and bring increasing numbers of visitors downtown.
Every winter since the 1920s, Clearwater has welcomed thousands of northern visitors. Today, just as it did then, the return of the winter season marks a bustling time of special events which are held throughout the city.
Downtown Arts Stroll
Downtown winter season 2002/2003 opened with the Downtown Arts Stroll, held in the second week of November. Merchants paired up with local performing and fine artists to create an evening of free entertainment for the entire family. By visiting different merchants, shoppers became eligible to win a $1,000 gift basket.
Entertainment included flamenco and hip-hop dancers, a jazz trio, a country-western band, singers and ambulant story tellers as well as exhibitions by fine local artists such as Steve Carlisle, Tim Riley and Robert Schoeller.
The Arts Stroll was produced by the City of Clearwater's Main Street Promotions Committee and the city's Parks and Recreation Department and sponsored by the Downtown Development Board.
Downtown Farmer's Market
The Farmer's Market opens in November each year and is held every Wednesday through to April at Station Square Park on the 600 block of Cleveland Street.
The market is open from 8 a.m. until 1 p.m., and features fresh produce, cheeses, seafood and baked goods. There is ample metered parking around the park and patrons who park in the Garden Street Garage can have their parking validated.
Festival of Trees
The annual Festival of Trees began the week before Thanksgiving at the Harborview Center. More than 120 Christmas trees were decorated by local businesses and non-profit organizations. As in previous years, the trees were auctioned off, with the proceeds going to support local charities.
In recent years, the festival has raised over one million dollars for children and families in Pinellas County. Proceeds benefit children's programs at both the Hospice of the Florida Suncoast and the Upper Pinellas Association for Retarded Citizens, and three to five smaller children's charities selected by Kids Kommittee, Inc. Those charities are selected based on need and the number of children served by each.
Holiday Parade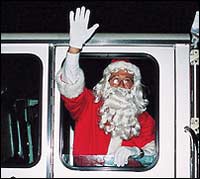 Many different groups and organizations participate in the annual city-sponsored Clearwater Holiday Parade. The procession starts at Crest Lake Park, travels down Cleveland Street and ends in Coachman Park. The parade for 2002 was held on December 13. As in previous years, it included local marching bands, community organizations — including Boy Scout and Cub Scout troops from throughout Pinellas County, each marching under its own banner — and a number of different colorful floats.
Downtown Holiday Light Up
The annual holiday lights of downtown Clearwater attract people from all over Pinellas County. Trees and buildings festooned with lights turn the entire downtown into a holiday wonderland at night, enchanting people of all ages. The lights, which are officially turned on in an official ceremony the day after Thanksgiving, remain lit until New Year's Day and are a special treat for those out for an evening drive.
Winter Wonderland
The annual Winter Wonderland, sponsored and organized by the Church of Scientology and parishioners, celebrated its 10th year as a regular event of the holiday season. Located at the corner of Drew and Fort Harrison Avenue downtown, it was open weekday evenings and weekend days and evenings from December 7­22. Visitors each year are encouraged to donate toys and canned goods, which are given to the Red Cross and to Everybody's Tabernacle for distribution to less fortunate families so they, too, can have a happy holiday. (Also see story here.)
Foster Children's Party
The Foster Children's Christmas Party has been an annual event at the Fort Harrison for 14 years, with the 2002 event occurring on December 11.
More than 500 foster parents and foster children from all over Pinellas County attended and that number grows each year. The party includes jugglers, mimes, clowns, face painting, crafts and non-stop live entertainment for four hours. There is plenty of food and each child gets to see Santa and receive at least four Christmas gifts. For many of the children who participate, the Christmas party is the first time during the year they get to see their siblings.
"Say No to Drugs" Race
The 14th annual "Say No to Drugs" Holiday Classic Race was held with more than 650 runners on December 21, 2002. The race was sponsored by the Dianetics Running Team, Einstein Bagels, Dimmit Land Rover of Clearwater, and many others, and features elite international athletes.
The race begins in Coachman Park, goes over the bridge and ends at the beach. Runners compete for between $2,000 and $5,000 in prize money. At the end of the race, the winners and other contestants are bussed to Harborview Center, a city-owned community hall next to Coachman Park, for an awards ceremony that includes a pancake breakfast.
The Drug-Free Marshals, a drug prevention campaign sponsored by the Church of Scientology to provide drug education for young people, "swore in" new marshals. Children and adults sign a ten-point pledge promising to live a drug-free life and to encourage their family and friends to do the same.
- For more information on these and other events in Clearwater with a drug-free theme, call (727) 442-7140 or e-mail chris@saynotodrugs.com or log on to www.saynotodrugs.com