"Kid's Closet"
Providing Help and Hope to Clearwater's Foster Children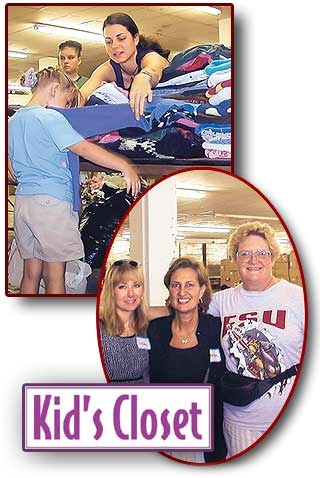 "Shopping Spree": (Above) Volunteer helps foster child with new clothes at Kid's Closet. (At left, from left to right) Kid's Closet volunteer Linda Lortch and organizers Marsha Friedman, co-founder of Cherish the Children Foundation and active Scientology Volunteer Minister and Christel Vinson, Florida Department of Children and Families Community Resource Manager for the Sun Coast Region.
Three-year-old Raysha held her mother's hand and looked about in wonder at shelves and crates filled with toys and new clothes. "Can these be mine?" she asked her mother.
The answer was "yes." For the next hour, Raysha enjoyed a "shopping spree" that resulted in ten new outfits, a pair of new shoes and an armload of toys.
It was Raysha's first visit to Kid's Closet. Located in downtown Clearwater, the Kid's Closet center was opened in September 2002 by the Cherish the Children
Foundation, a non-profit volunteer organization working in partnership with the Florida Department of Children and Families. Kid's Closet is a store where visitors "shop" for free. It provides nearly new clothes to Pinellas County children, like Raysha, who have been placed in foster care or who are severely disadvantaged due to family poverty or homelessness.
There are more than 1,250 foster children in Pinellas County — children previously abandoned, neglected or abused by drug-addicted or criminal parents.
"Sometimes kids come to us with just the clothes on their backs," said Linda Wellington, a Florida foster parent for 16 years. "Babies are brought in with just diapers and no other clothes. I had a 12-year-old come to me wearing a man's shirt and flip flops. She had nothing else."
Foster parents receive a modest clothing stipend of less than $60 a month, barely enough to clothe a growing child for even a few months, especially if the child is going to school and has only the same clothes to wear each day.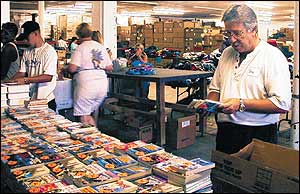 School supplies, including a variety of donated books (above), were among the items sorted and ready for children to "shop" for at the opening night of Kid's Closet in September (bottom).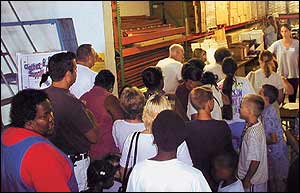 Kid's Closet is the solution to this problem. Funded by a grant from the 2001 Miracle Day Program, the center is set up like a boutique. Bright, cheerful and well-stocked with neat displays of clothing and toys, it is divided into separate sections for infants, toddlers, young children and teenagers. Every child who comes is allowed to pick 10 outfits for themselves. Younger children can also pick 10 toys.
"This is a place where the kids can go that is laid out like a store," said Christel Vinson, Florida Department of Children and Families Community Resource Manager for the Sun Coast Region. "They can look through the racks and pick what they want and try them on. It makes them feel like normal kids. They feel like they have value."
To a large degree, Kid's Closet is Vinson's brainchild. For several years, she has worked with the Cherish the Children Foundation, which holds a special Christmas party at the Fort Harrison Hotel each year for Pinellas County foster children. One year, the Foundation asked Vinson what else they could do to assist children in foster care. Vinson recommended providing school supplies and clothes. Cherish the Children took it from there and Kid's Closet was born.
"We have helped almost 200 children in sad, unfortunate situations," said Marsha Friedman, co-founder of Cherish the Children Foundation. "I'm just glad the Kid's Closet makes things a little better for them and shows them that there are people who really care."
All ARE WELCOME
All public are invited to attend Sunday Service at the local Church of Scientology missions or to simply come and visit any time.
Church of Scientology
Mission of Clearwater
100 N. Belcher Rd.
Clearwater, FL
33765
(727) 443-4111
Church of Scientology
Mission of Belleair
2907 West Bay Dr.
Belleair Bluffs, FL
33770
(727) 501-9996
Disadvantaged children or their foster parents can select toys and clothes by appointment. Though volunteers would like to keep the store open all day, six days a week, lack of manpower makes limited hours a necessity. Appointments to shop can be scheduled for any time during the day, but must be made 24 to 48 hours in advance.
Volunteers to help sort donations and maintain the racks and shelves are very needed. Kid's Closet recently initiated what they call their "Adopt a Shelf or Rack" program. Members of local service organizations are invited to help stock up racks and shelves. Teenagers who need to do community service projects for school are also welcome.
"This is a wonderful group of people," said Christel Vinson. "They hope to make a positive difference for these kids. All they want back is to see the kids smile."
Appointments to shop at the Kid's Closet can be made by calling (727) 442-3777. Those wishing to volunteer time or "adopt a shelf or rack" may call the same number.