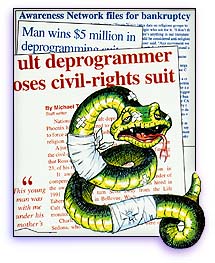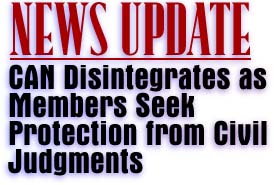 n response to the continuing reader interest and requests for information on the self-destruction of the Cult Awareness Network ("CAN"), we provide this update on the latest news concerning the highly controversial religious hate group's declining state of affairs. (
Freedom
published the results of a comprehensive investigation into CAN in its special report, "The Cult Awareness Network: The Serpent of Hatred, Intolerance, Violence and Death.") As covered in "
Deprogramming
Decimated in America," Vol. 28, Issue 1, in September 1995, CAN, "deprogrammer"
Rick Ross and his associates were ordered by a federal court jury in Seattle, Washington, to pay $4,875,000
in damages to Pentecostal Christian Jason Scott. The jury held that the violent acts of the anti-religious "deprogrammers" are "so outrageous in character and so extreme in degree as to go beyond all possible bounds of decency and [are] to be regarded as atrocious and utterly intolerable in a civilized community." Ross and his colleagues had attempted to "break" Scott's Christian beliefs — characterized as "bible-intoxicated" by Ross at the trial — through the use of force and violence.
Within weeks of the verdict, rather than seeking to reform their ways, CAN and Ross both sought to duck the consequences of their misconduct by declaring bankruptcy.
Scott's lawyer noted that punitive damages, however, particularly in civil rights cases, are not dischargeable through bankruptcy. "This debt follows them no matter what happens," said attorney Kendrick Moxon. "It may take 20 years, but they'll have to pay."
But the strongest condemnation was yet to come. CAN moved to have the jury verdict set aside, claiming it was "unreasonable." Judge John Coughenour denied the motion, stating that "The court notes each of the defendants' seeming incapability of appreciating the maliciousness of their conduct towards Mr. Scott. ... Thus, the large award given by the jury against both CAN and Mr. Ross seems reasonably necessary to enforce the jury's determination on the oppressiveness of the defendants' actions and deter similar conduct in the future."
The judge also made it clear that there was a world of difference between what the anti-religious group claims they do, and what they actually do. Commenting on CAN's claim that they provided "information" about "cults," the judge said that this did not match the facts of the case. "Nor do the references to the goal of 'educating' the public answer the virtually undisputed evidence that materials on 'cults' will be negative and highly inflammatory by definition."
The Court also noted that it is CAN's actions which destroy families and that "the evidence firmly supports a finding that the entire deprogramming episode shook his [Jason Scott's] emotional stability and rendered his family life non-existent."
CAN's legal troubles have hardly been limited to Seattle. CAN officials recently settled a case in Los Angeles brought by a Jewish man who sued for discrimination after he was ejected from a Shabbat service held at a convention of CAN members in Los Angeles. In January 1996, the CAN officials concerned issued a statement that "[we] regret the incident giving rise to this lawsuit. ... We object to anyone who would use illegal means, including abduction or coercion, to interfere with the free expression of religion." They also paid the plaintiff $6,000 in exchange for their dismissal from the case.
The facade has crumbled. As courts and juries find out what the Cult Awareness Network really does, they uniformly reach the same conclusion: CAN's activities are violating public policy.