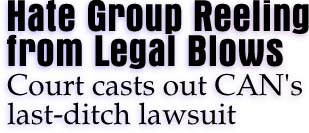 ---
Freedom has chronicled the demise of the Cult Awareness Network ("CAN") from its arrogance at the pinnacle of hate to the gutter to which CAN has now slid.
CAN, it appears, is about to descend even further.
On March 29, CAN's last-ditch attempt at lashing out through the legal system crumbled when an Illinois appellate court unceremoniously threw CAN out of court for filing a meritless lawsuit.
From a national clearinghouse for faith-breaking and violent deprogramming, CAN is now in bankruptcy, bereft of support from any visible source, and without even a chance to pursue the bogus claim CAN actually listed as a potential "asset" in its bankruptcy filings.
CAN has long been at the center of controversy for the group's involvement in kidnappings (euphemized as "deprogramming") and being in league with criminal elements and acts at its highest levels. (See "CAN Disintegrates as Members Seek Protection from Civil Judgments".) This decision ends CAN's attempt to silence people who used the courts to expose CAN for what it is.
In 1992 and 1993, CAN faced numerous lawsuits across the country from individual Scientologists who were outraged by CAN's lawless acts and discriminatory campaigns. Almost all of these cases were filed under civil rights statutes which guarantee equal treatment and prohibit discrimination.
In virtually all of the cases, the national CAN organization caved on their discriminatory policies. More than a third of the suits led to monetary judgments and injunctions prohibiting discrimination.
However, in 1994, in a final attempt to save face and grasp the last straw of survival, CAN filed a suit in Chicago against the Church of Scientology International, in the hope of "silencing" its critics.
Three times in a row, CAN stood by as its complaint was dismissed as legally deficient — the last time, the suit was dismissed with prejudice and fees and costs awarded to the Church.
But the message didn't sink in with CAN — it appealed to the Illinois Court of Appeals, seeking a reinstatement of the case.
This 11th-hour effort disintegrated on March 29 when the Illinois Court of Appeal upheld the dismissal of CAN's litigation. The three-judge panel ruled unanimously that the Scientologists had been perfectly within their right to take CAN to task for their civil rights violations. "[W]e affirm the trial court's dismissal with prejudice of [CAN's] complaint," said the panel.
All indications are that CAN — which has been aptly described as "the Serpent of Hatred, Violence and Death" — has used the last of its venom to bring itself to the verge of final collapse.
"The days where CAN could lie and harass are long gone — simply no one will stand for it any more," said Los Angeles attorney Kendrick Moxon. "Trying to deprive parishioners of their constitutional rights is simply an outrage, whether they try to do it with their traditional 'deprogramming' methods or through a lawsuit."