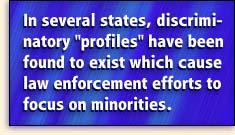 A memo surfaced which described "common characteristics of drug couriers" and instructed officers to be alert for "ethnic groups associated with the drug trade." Yet statistics provided by the federal government show that only 12 percent of the nation's drug abusers are black, roughly the same percentage as exists in the general population. The majority are white, yet they were not included in Volusia County's "drug runner profile." Once stopped, white motorists were normally allowed to proceed after a few minutes, while blacks and other minorities were detained for long periods — up to an hour or more — and tricked or bullied into allowing a search. In fact, videotapes made by deputies showed a white driver who admitted time and again that he was drunk, but who nevertheless was permitted to drive away. Even a former chaplain for the Sheriff's Office came forward to confirm the charges of discrimination. But what was the final outcome? Officers who testified about the abuses instead became targets. The judge, Anne Conway, permitted defense lawyers free rein, skirted the issue of systematic discrimination, and then, in a controversial move criticized by the National Association of Criminal Defense Lawyers and others, dismissed the case.
One journalist commented, "The ruling, however, does not mean that his [Sheriff Vogel's] agency's actions were warranted. They clearly violated the constitutional protection against illegal search and seizure."
The Rev. George Crossley of Orlando, a white Christian minister, incensed over the evidence of prejudicial treatment of blacks and other minorities, has campaigned to get the state's cash seizure law changed.
"Just because something is a law doesn't make it right," he stated. "Thirty years ago there were laws in this country that said some people could not go places or do things because of the color of their skin. Those laws were wrong, and this law is just as wrong."
The president of the Orange County, Florida, branch of the NAACP, Thomas Alston, stated that the judge's ruling conformed to similar discrimination by other U.S. courts against blacks.
"A lot of minorities do not expect a lot of fairness from the judicial process," Alston said.
Investigation has documented that racially based "profiles" of drug dealers existed in Pennsylvania, Maryland and possibly other states.
And an examination of 121 travelers' cases around the nation in which police found no illegal drugs and made no arrest — but seized money anyway—showed that 77 percent of the people victimized were black, Hispanic or Asian.
Such statistics speak forcefully of unequal justice and constitute a matter of concern to all citizens. When the rights of any group of citizens are undermined, the rights of all are imperiled.