A Step Toward Real Solutions
Gail Armstrong
Executive Editor

peed kills" became a truism in the 1960s as grim stories mounted from abuse of methamphetamine and similar drugs.
The accounts continue today, as law enforcement officers encounter the destruction these substances wreak. One California narcotics agent recently told the press about a meth user who killed two children with a pitchfork. After long-term use of the drug, the agent noted, "You're basically not a human being anymore."
Yet, as incredible as it may seem, citizens across America are having to battle to protect children from being forced to take amphetamine and other mind-altering drugs.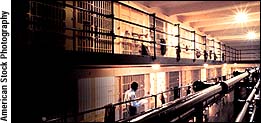 Parents, education officials and others have worked with legislators to get resolutions and laws passed in eight states so far to stem schools' growing reliance on drugs for behavior and learning problems—conditions handily redefined in psychiatric diagnostic (and billing) criteria as "illnesses".
But the psychiatric cash cow drug industry has grown so fat that others cannot resist jumping on regardless of consequences. Now the American Psychological Association is lobbying to allow psychologists to prescribe drugs to children and adults—an effort that was one of the top controversies at the association's annual convention in August 2001.
If ever there was a case of collective greed forcing professional integrity into extinction, this is it.
Voluminous, authoritative studies document the connections between "legal" drugs and anti-social behavior, aggression, violence, mania, psychotic episodes and impairment of judgment, not to mention a host of physiological problems.
These "legal" substances also breed an entirely new class of abuse and criminality. Evidence multiplies that students and adults are snorting, swapping, selling and stealing the prescription mind-altering drugs.
Methylphenidate, an amphetamine substance commonly prescribed to children, is placed in the same class of substance as cocaine by the U.S. Drug Enforcement Administration due to its addiction potential. Evidence has existed for years that individuals taking methylphenidate are more likely to use cocaine than those who are not*.
In a hearing last year on illegal use of Ritalin (methylphenidate), the U.S. House Education and Workforce Committee heard testimony that one in five college students in the country today uses the drug for "recreational" purposes. "Ritalin may be the greatest drug problem we have in this country," committee chairman U.S. Representative William Goodling (R-PA) said.
Representative Henry Hyde (R-IL), chairman of the House Judiciary Committee, told USA Today in November 2000, "Virtually every data source available confirms what the U.S. Drug Enforcement Administration, state and local law enforcement, and various media outlets have documented: widespread theft, diversion and abuse of Ritalin and drugs like it, within public schools throughout the country."
The Drug Enforcement Administration recently listed Ritalin as one of this country's most stolen drugs. Thieves include a 50-year-old elementary school teacher in Oren, Utah, who was sentenced to 30 days in jail after stealing from students' prescriptions kept in a safe at his school, and the 33-year-old mother of two in Ozaukee County, Wisconsin, who admitted to robbing eight pharmacies to obtain the drug. According to a report in the Milwaukee Journal Sentinel, the mom described to authorities "an addiction so out of control that she fashioned toy weapons and hogtied clerks while apologetically robbing pharmacies."
This trend is but a microcosm, though, of what has already been happening in society for the past half-century, evidenced by drug abuse and attendant criminality rampant in the culture—with many of the "street" drugs once prescribed "medicine."
Solving the problem with yet more drugs is tantamount to dousing a fire with gasoline. Yet it is happening every day in our prisons, where potent, mind-altering substances are replacing drug and criminal rehabilitation, and the prison population swells with repeat offenders, an estimated 80% of whom are substance abusers.
The first step in reversing the trend is to recognize when "solutions" are not working, much less are destructive, and be willing to speak out—as a growing number of Americans are.
There rises then, what could be the ultimate challenge: mustering the integrity and courage to open our minds to real solutions with real results, instead of maintaining a status quo motivated by profit or power.
* Methylphenidate, A Background Paper, Drug and Chemical Evaluation Section, Office of Diversion Control, Drug Enforcement Administration, October 1995.